A Jacobite Gazetteer - Slovenia
Gorica - Monastery of la Castagnavizza
---
The town of Gorica (the Slovenian name; Goritz in English and French, Gorizia in Italian, Görz in German) is located near the Italian border; on the other side of the border is the Italian town of Gorizia.
Charles X of France chose the crypt of the Franciscan monastery of la Castagnavizza as his last resting place. Here also are buried his grandson Henri V (comte de Chambord) and Henri's wife, Maria Theresa, daughter of Queen Mary III and II and sister of King Francis I. The white marble sarcophagi of Henri V (marked "H.V.") and Maria Theresa (marked "M.T.") are to the left as one enters the crypt.
During the Great War the Empress Zita of Austria had the remains of these princes removed from Gorica. In the summer of 1917, the remains of these princes were moved to Innsbruck, and then at the end of November taken on to Schönbrunn. On January 5, 1918, they were placed in the Carmelite Convent of the Holy Family in Vienna-Döbling, where there remained until they were returned to Gorica on October 1, 1932.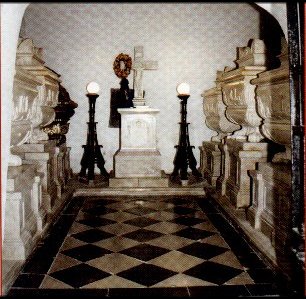 Crypt of la Castagnavizza