About the Editor
---
Noel S. McFerran received the degree Bachelor of Arts (in Classical Studies) from the University of British Columbia, Canada, in 1985 and the degree Master of Library Science from the same institution in 1988. He received the degree Master of Arts (in Theology) from Saint Charles Borromeo Seminary, Pennsylvania, in 1997.
For fifteen years he has worked as a professional librarian in public and academic libraries in Canada and the United States. Since 1998 he has been Head of Public Services in the John M. Kelly Library of the University of Saint Michael's College, one of the federated universities of the University of Toronto.
Apart from his interest in the present (Jacobite) Royal Family, he is most interested in the life of Queen Mary of Modena, the reign of King Henry IX and I, and the religious aspects of the Jacobite movement. He is a life member of the Royal Stuart Society. He is also Assistant to the Editor of English Reformation Sources, an online collection of primary documents about the history of the Reformation in England.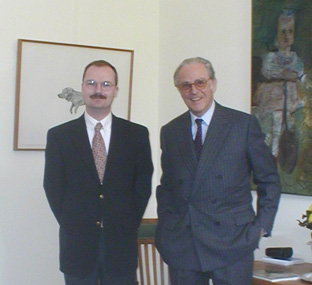 The Editor with the Duke of Bavaria,
Schloss Nymphenburg, May 2003.
---
This page is maintained by Noel S. McFerran (noel.mcferran@rogers.com) and was last updated October 25, 2003.
© Noel S. McFerran 2000-2003.