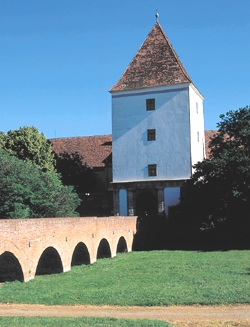 Sárvár Castle entrance

The town of Sárvár (pronounced "Shar-var") is located about forty kilometres from the Austrian border, some one hundred kilometres south of Vienna.

Duke Francis IV of Modena (husband of Queen Mary III and II) acquired Sárvár Castle (also known as Nádasdy Castle). The surrounding estate consisted of 9000 hectares, over half of which was wooded. There was a herd of some 1200 milk-cows as well as the famous breed of Sárvár horses. 1 In June 1839 the Royal Family visited Sárvár where they hosted a reception for the local nobility. 2

At his death in 1846 Duke Francis IV left the estate to his younger son Archduke Ferdinand (brother of King Francis I). Archduke Ferdinand died only three years later, at which point the estate was inherited by his only daughter Princess Maria Theresa (later Queen Mary IV and III).

King Francis I visited the estate on a number of occasions. 3 In 1848 he travelled using the pseudonym "Count of Sárvár". 4 King Ludwig III of Bavaria (husband of Queen Mary IV and III) spent the last three weeks of his life here in 1921. In 1923, the Bavarian Landtag recognised the private ownership of the estate when it passed the "Law on the Settlement under Assets Law of the Bavarian State with the Former Bavarian Royal House".

For many years Prince Francis (younger brother of King Rupert) lived here with his family. In 1938 his daughter Princess Dorothy married Archduke Gottfried of Austria here. As the army of the Soviet Union approached in the Spring of 1945, Prince Francis organised the transfer of the Royal Family's property (including furniture, paintings, horses, cows, and pigs) from Sárvár to Leutstetten in Bavaria. 5

Today the castle houses several cultural institutions (Lajos Kossuth Cultural Centre, János Sylvester Library, Galeria Arcis Exhibition Hall, and Nádasdy Museum). A spa hotel (Danubius Thermal Hotel Sárvár) was opened in the grounds of the castle in 1985.

The museum is open Tuesday to Sunday from 9.00 a.m. to 5.00 p.m. (entrance fee HUF460.00).

Website: http://www.museum.hu/search/museum_en.asp?ID=669; telephone: (95) 320-158.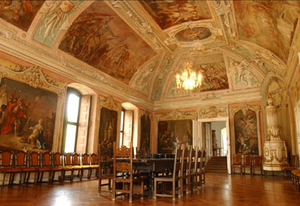 Sárvár Castle interior
---
Notes
1 Alfons Beckenbauer, Ludwig III von Bayern, 1845-1921: Ein König auf der Suche nach seinem Volk (Regensburg: Friedrich Pustet, 1987), 83.
2 Elena Bianchini Braglia, Maria Beatrice Vittoria: Rivoluzione e Risorgimento tra Estensi e Savoia (Modena: Edizioni Terra e Identità, 2005), 139.
3 Cf. Teodoro Bayard de Volo, Vita di Francesco V, Duca di Modena, 1819-1875 (Roma: Spithover, 1878), III, 543, 558, 559, and 563.
4 Ibid., I, 276.
5 Beckenbauer, 83.
Image 1 (Aerial view of Sárvár Castle): "Danubius Thermal Hotel Sárvár", http://www.danubiushotels.com/hotels/hotel.php?id=29.
Image 2 (Sárvár Castle entrance): Ibid.
Image 3 (Sárvár Castle interior): "Sárvár", http://www.sarvar.hu.
---
This page is maintained by Noel S. McFerran (noel.mcferran@rogers.com) and was last updated February 28, 2009.
© Noel S. McFerran 2000-2009.