Charles IV
---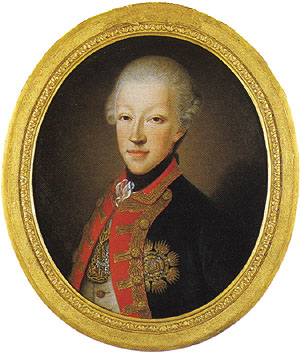 Oil painting by Giovanni Panealbo

Carlo Emanuele Ferdinando Maria di Savoia was born at Turin in northern Italy, May 24, 1751. He was the eldest son of Vittorio Amadeo di Savoia, Duke of Savoy (later King Victor Amadeus III of Sardinia) and of his wife, the Infanta Maria Antonia of Spain (daughter of King Philip V of Spain). At the time, the House of Savoy ruled not only the island of Sardinia (from which the king took his title) but all of Piedmont in northwestern Italy as well as the Savoy in what is now southeastern France.

From his birth Charles Emanuel bore the title of "Prince of Piedmont". When he was born, Charles Emanuel was also fifth in line to the English and Scottish thrones - after Charles, Prince of Wales, Henry, Cardinal Duke of York, King Charles Emanuel III of Sardinia, and the Duke of Savoy (later King Victor Amadeus III of Sardinia). For Charles Emanuel's baptism, Pope Benedict XIV sent the blessed swaddling clothes given only very rarely by the pope to the most important royal children.

Charles Emanuel was raised in a very religious - almost ascetic - household. His principal tutors were Count Roberto Giuseppe Malines de Bruino and the Barnabite priest (later cardinal) Don Giacinto Sigismondo Gerdil. He studied military science under the noted engineer Alessandro Vittorio Papacino d'Antoni. Charles Emanuel had a weak constitution and was frequently ill. He suffered from violent nervous convulsions; it is possible that he had epilepsy.

For the first part of his life Charles Emanuel's main residence was at the Palazzo Reale in Turin. In the summer his family retired to the castle at Moncalieri on the outskirts of Turin or to La Veneria near the town of Bra some thirty kilometres south of Turin.

In 1773 Charles Emanuel's father succeeded to the throne of Sardinia. From this point serious consideration began to be given to Charles Emanuel's marriage which would be arranged for political reasons. Two of Charles Emanuel's sisters were married to the younger brothers of King Louis XVI of France (Giuseppina to the Comte de Provence, later King Louis XVIII, and Maria Teresa to the Comte d'Artois, later King Charles X). Charles Emanuel's sister Giuseppina suggested a match with her sister-in-law Princess Marie Clotilde of France, daughter of the late Dauphin Louis and of his wife, Princess Maria Josefa of Saxony. After two years of negotiations Charles Emanuel (represented by the Comte de Provence) was married to Marie Clotilde by proxy on August 21, 1775 at the Palace of Versailles.

Charles Emanuel and his new wife met for the first time on September 6, 1775, when they renewed their marriage vows in the Chapel Royal at Les Echelles, Savoy. In spite of the political reasons for the union, the couple were well-matched; they shared a profound attachment to the Catholic faith. The fact that they were not blessed with children was treated by them as the will of God to which they should resign themselves. After seven years of married life, they chose to live together as brother and sister.

Charles Emanuel was deeply troubled by the French Revolution whose effects were being felt throughout western Europe. In 1793 his brother-in-law King Louis XVI was executed. The following year his sister-in-law Queen Marie Antoinette met the same fate and the armies of the French Republic stormed into his father's dominions. Charles Emanuel took solace in his faith. In 1794 he became a member of the Third Order of Saint Dominic, taking the name Charles Emanuel of St. Hyacinth.

At the death of his father, King Victor Amadeus III of Sardinia, October 16, 1796, Charles Emanuel succeeded as King Charles Emanuel IV of Sardinia. It was a most difficult time to be a new monarch; Charles Emanuel referred to his throne as a "crown of thorns". After several years of fighting against the armies of the French Republic, his father had had to hand over to France the family's ancestral duchy of Savoy. The Sardinian state treasury was empty, the army was weakened and disorganised, and among the common people revolution was fomenting.

For the next two years the new king suffered a series of humiliations from the French Republic. On January 22, 1797, French agents conspired with local Jacobins in Turin to attempt an assasination of Charles Emanuel in the cathedral of Turin. A second assasination attempt in July 1797 at Stupinigi also failed. Finally, on December 6, 1798, the occupying French forces forced Charles Emanuel to abdicate all his remaining territories on the Italian mainland; he retained his sovereignty only over the island of Sardinia.

Three days after the abdication, on the night of December 9, 1798, Charles Emanuel and his wife left Turin for Parma. They were accompanied by Charles Emanuel brother Victor Emanuel and his wife, son and daugther Mary Beatrice, as well as by Charles Emanuel's three younger brothers and his uncle. From Parma the family travelled on to Florence. Grand Duke Ferdinand III of Tuscany gave them the use of Villa di Poggio Imperiale. While there, Charles Emanuel and Marie Clotilde visited Pope Pius VI who was living in exile at Certosa.

In February 1799 the continuing advance of the French armies into Italy required that Charles Emanuel withdraw to the island of Sardinia. On Feburary 13, he and his family went to Livorno where they stayed until February 24. Then they set sail for Sardinia which they reached on March 3. That same month the French occupied Florence and drove the Grand Duke of Tuscany from his dominions.

In Sardinia Charles Emanuel issued a formal protest against his forced abdication. He announced various reforms for the island and opened its ports to the English fleet. Charles Emanuel's sojourn in Sardinia was saddened by the death in August of his nephew and godson Charles Emanuel (son of the Duke of Aosta, later King Victor) and by the death of his brother the Duke of Montferrat in early September. Meanwhile the Russian army freed Turin from the French. At the invitation of Tsar Paul I, Charles Emanuel decided to return to Piedmont.

When Charles Emanuel and his wife landed at Livorno on September 22, 1799, they discovered that the Russians had left Piedmont in the hands of the Austrians who were not disposed to support Charles Emanuel's return. So instead he returned to Villa di Poggio Imperiale near Florence. There he received one of his Piedmontese subjects Count Vittorio Alfieri, the companion of Queen Louise, herself the widow of King Charles III.

Charles Emanuel's prospects worsened still further with the elevation of Napoleon Bonaparte to the office of First Consul of the French Republic. In early June 1800 Charles Emanuel and his wife left Florence and travelled south to escape the advancing French troops. They went first to Arezzo where they stayed from June 10 to 21, and then to Foligno where they stayed from June 23 to July 3. In Foligno they met the newly-elected Pope Pius VII who invited them to Rome. There Palazzo Colonna was placed at their disposal. But the majority of their time was spent in the town of Frascati where the Cardinal called Duke of York lived.

In November 1800 Charles Emanuel and his wife fled again from the advancing French troops, this time retreating to Naples. When the French decided not to occupy Rome, they returned there in March 1801. They stayed in Rome only two months, when, fearing again for their safety, they went to Caserta where King Ferdinand IV of Naples permitted them the use of his palace. After a short time, however, they chose to live in Naples itself.

In late February 1802 Charles Emanuel's wife Marie Clotilde became ill with typhoid fever. She died in the odour of sanctity, March 7, 1802. [She was named "Venerable" by Pope Pius VII, April 10, 1808. On January 7, 1982, Pope John Paul II recognised that she had lived the Christian virtues in an heroic manner; this is the first step towards canonization as a saint.] Charles Emanuel was grief stricken; on June 4, 1802, in the Palazzo Colonna in Rome he abdicated the throne of Sardinia in favour of his brother Victor Emanuel.

After his abdication Charles Emanuel retained the personal title of king and an annual pension. He lived in Rome at Palazzo Cenci Bolognetti and in Frascati at Villa Lancellotti. He maintained a warm friendship with the Cardinal called Duke of York with whom he shared common interests in religion and music. On October 14, 1802, Charles Emanuel accompanied Pope Pius VII on a visit to Frascati to honour the Cardinal called Duke of York.

At the death of the Cardinal called Duke of York, July 13, 1807, Charles Emanuel succeeded to all of his British rights as lineal heir of King Charles I; he himself was the great-great-grandson of Henrietta Anne, youngest daughter of King Charles I. Charles Emanuel's hereditary rights were confirmed by the will of the Cardinal called Duke of York. Charles Emanuel was henceforward recognised by the Jacobites as "King Charles IV".

Throughout his life Charles Emanuel had taken a great deal of interest in the restoration of the Society of Jesus (the Jesuits) which had been suppressed in 1773. From 1806 until 1811 Charles Emanuel maintained a friendship with Saint Joseph Pignatelli, the Jesuit superior in Naples. The Society of Jesus was restored in 1814; six months later on February 11, 1815, at the age of sixty-four, Charles Emanuel entered the Jesuit novitiate at Rome. He took simple vows, but was never ordained priest. He lived with his confessor, doctor, chamberlain, and several others in his own apartments in the Jesuit novitiate next to the Chiesa di Sant' Andrea al Quirinale in Rome. He died there, October 6, 1819, when he was succeeded in his British rights by his brother Victor Emanuel. His remains lie in the Chiesa di Sant' Andrea al Quirinale. There is a monument to his memory in the Basilica di Superga.
Further reading:

There is no full-length English-language biography of King Charles IV.

Manzotti, Teofilo. Memorie storiche intorno a Carlo Emanuele IV, re di Sardegna, morto religioso nella Compagnia di Gesù. Edited by Pietro Galletti. Rome: Tempesta, 1912. A small work written and edited by Jesuits.

Perrero, Domenico. I reali di Savoia nell'esiglio (1799-1806): narrazione storica su documenti inediti. Turin: Fratelli Bocca, 1898. A lengthy work on the period of conflict with the French Republic.

Perrero, Domenico. Gli ultimi reali di Savoia del ramo primogenito ed il principe Carlo Alberto di Carignano: studio storico su documenti inediti. Turin: Francesco Casanova, 1889.

Artemont, Louis-Leopold d'. A Sister of Louis XVI: Marie-Clotilde de France, Queen of Sardinia (1759-1802). London: John Murray, 1911. A somewhat pious biography of Charles' wife. Includes substantial material about Charles Emanuel and relevant political history.

There are numerous biographies of Queen Marie Clotilde written in French and Italian.
---
This page is maintained by Noel S. McFerran (noel.mcferran@rogers.com) and was last updated August 29, 2017.
© Noel S. McFerran 2003-2017.