Victor
---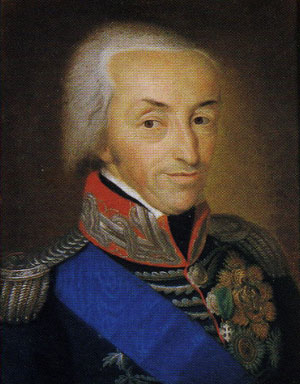 Oil painting by Luigi Bernero

Vittorio Emanuele Giovanni Nepomuceno Gaetano Maria di Savoia was born in the Palazzo Reale in Turin in northern Italy, July 24, 1759. He was the third (but second surviving) son of Vittorio Amadeo, Duke of Savoy (later King Victor Amadeus III of Sardinia) and of his wife, the Infanta Maria Antonia of Spain (daughter of King Philip V of Spain). Within an hour of his birth he was baptised in the chapel of the ducal apartment by Cardinal Carlo Vittorio Amedeo delle Lanze. The prince's godparents were his grandfather, King Charles Emanuel III of Sardinia, and his father's sister, Princess Felicita of Savoy.

From his birth Victor Emanuel bore the titles of "Prince of Savoy" and "Duke of Aosta". When he was born, Victor Emanuel was also sixth in line to the English and Scottish thrones.

Victor Emanuel was first entrusted to the care of Countess Elena Ludovica Fresia d'Oglianico. When he was nine he and his younger brother, the Duke of Monferrato, were given a governor, Cavaliere Gabaleone di Salmour, who was assisted by Cavaliere Giovanni Innocenzo di Vallesa as under-governor. They were eventually succeeded by Cavaliere Caisotti di Chiusano. Victor Emanuel had several tutors: the Barnabite priest (later cardinal) Don Giacinto Sigismondo Gerdil; Cavaliere Pischeria for Latin and Italian; Father Niccolò di S. Marcel for French, history, arithmetic, and geometry; Cavaliere Alessandro Vittorio Papacino d'Antoni for military science.

For the first part of his life Victor Emanuel's main residence was at the Palazzo Reale in Turin. In the summer his family retired to the castle at Moncalieri on the outskirts of Turin or to La Veneria near the town of Bra some thirty kilometres south of Turin.

The marriage of Victor Emanuel was less of a political alliance than that of his older brother Charles Emanuel. In the selection of a bride he was able to consider other matters. On April 23, 1789, Victor Emanuel was married by proxy to Archduchess Maria Theresa of Austria, daughter of Archduke Ferdinand Charles of Austria, Duke of Brisgau (brother of the Emperor Joseph II) and of his wife, Princess Maria Beatrice Este (heiress of the Este dukes of Modena). The ceremony was held in the Cathedral of Milan with the Archbishop of Milan, Filippo Visconti, acting as chief witness. The bride was herself present at the ceremony; the groom was represented by his nine year old future brother-in-law (and later son-in-law) Archduke Francis of Austria.

On April 25, 1789, the couple renewed their vows in person in the Cathedral of Novarra in the presence of the Archbishop of Turin, Cardinal Vittorio Maria Costa d'Arignano. The couple had seven children of whom four daughters survived to adulthood:
Maria Beatrice (1792-1840), married Archduke Francis of Austria (later Duke Francis IV of Modena).
Maria Adelheid (1794-1795).
Charles Emanuel (1796-1799).
a princess (1800-1801).
Maria Teresa (1803-1879), married Duke Charles Louis of Lucca (later Duke Charles II of Parma).
Maria Anna (1803-1884), married Emperor Ferdinand I of Austria.
Maria Cristina (1812-1836), married King Ferdinand II of the Two Sicilies.

King Victor, Queen Maria Theresa, and their three youngest daughters
Victor Emanuel had by nature a military spirit, and did not suffer from the physical ailments which afflicted his older brother. He therefore played a more active role in the disastrous war waged by the Kingdom of Sardinia against the French Republic from 1792 to 1796. In Decmeber 1798 his brother Charles Emanuel was forced to abdicate all his territories on the Italian mainland in December 1798. When Charles Emanuel fled from Turin, the French authorities demanded that Victor Emanuel remain there as a hostage, but he was saved from this by the petitions of his sister-in-law Queen Marie Clotilde. Victor Emanuel was allowed to proceed with the rest of his family to Parma, to Florence, and in February 1799 to the island of Sardinia.
When King Charles Emanuel returned to the mainland six months later, Victor Emanuel followed him. He left his wife and children at Florence, and proceeded to Piedmont hoping to convince the occupying Austrian army to permit the return of Charles Emanuel to Turin. His wife Maria Teresa joined him in Piedmont, but shortly afterwards they had to flee to Livorno from the advancing armies of Napoleon Bonaparte. Victor Emanuel and Maria Teresa spent the summer of 1800 at Livorno. In October they proceeded to the island of Elba and then to Naples, once again in flight from the French.
On June 4, 1802 at the Palazzo Colonna in Rome, King Charles Emanuel, distraught at the death of his wife Marie Clotilde, abdicated the throne of Sardinia in favour of Victor Emanuel, who succeeded as King Victor Emanuel I of Sardinia. Victor Emanuel came to the throne at an even worse time than his brother had done six years previously. All of his territories on the Italian mainland were in the hands of the French; the island of Sardinia which remained in his possession was in a constant threat from revolution.
Victor Emanuel continued to receive the hospitality of Prince Colonna at his palace in Rome and at his villa near Albano. In August he moved to Gaeta as a guest of the King of Naples. His hopes of restoration in Piedmont diminished as Bonaparte, now the Emperor Napoleon, increased in power.
When the French attacked the Kingdom of Naples in February 1805, Victor Emanuel and his family returned to Cagliari on the island of Sardinia. They lived there for the next nine years.
After the abdication of the Emperor Napoleon, Victor Emanuel sailed to Genoa. On May 20, 1814, he re-entered his former capital of Turin. The following day he issued an edict nullifying all laws passed since June 23, 1800, and restoring the Constitution of 1770. The Congress of Vienna restored to Victor Emanuel all of the territories ruled by his father with the addition of Liguria.
At the death of his brother Charles Emanuel, October 6, 1819, Victor Emanuel succeeded to all of his British rights. He was henceforward recognised by the Jacobites as "King Victor".
Throughout the 1810's there were an increasing number of "secret societies" in Italy working for a change in the social order. They opposed first the French occupation, and then, after 1815, absolutist government and the Austrian domination of Italy. In Piedmont they demanded a liberal constitution. On March 10, 1821, the garrison in Alessandria rebelled, demanding a new constitution and war with Austria; on March 12 it was joined by the garrison in Turin. Victor Emanuel was not willing to break his promises to the Austrians, nor to squash the rising by force and shed the blood of his subjects. He therefore decided to abdicate the throne of Sardinia in favour of his youngest brother Charles Felix, March 13, 1821; Victor Emanuel retained all of his British rights.
Victor Emanuel left Turin for Nice, and then proceeded to Lucca where his daughter Maria Teresa lived with her husband Duke Charles Louis of Lucca. On June 13, 1821, he left Lucca for Modena where his eldest daughter Mary Beatrice lived with her husband Duke Francis IV of Modena. Pope Pius VII invited Victor Emanuel to live in Rome, and Grand Duke Ferdinand III of Tuscany invited him to live at Pisa, but he declined both invitations.
Victor Emanuel remained in Modena for almost a year. On May 9, 1822, he left for Reggio where he remained until June 1, 1822, when he departed for the castle of Moncalieri near Turin. He arrived at Moncalieri June 9, 1822. At the end of that month and the beginning of the next he stayed briefly at Govone, but then returned to Moncalieri. There he died January 10, 1824, when he was succeeded in his British rights by his eldest daughter Mary Beatrice. His remains lie in the Basilica of Superga near Turin.
Image 2 credit: Luigi Bernero, "Vittorio Emanuel I e la sua famiglia", 1817, now at the Castello in Racconigi; reprinted from Arte di Corte a Torino da Carlo Emanuele III a Carlo Felice, edited by Sandra Pinto (Turin: Cassa di Risparmio di Torino, 1987), 286.

Further reading:

There is no full-length English-language biography of King Victor.

Segre, Arturo. Vittorio Emanuelle I (1759-1824). Collana Storica Sabauda. Turin: G.B. Paravia, 1930. The standard Italian-language biography of King Victor.

Festorazzi, Roberto. La Regina Infelice: Lettere d'Amore Segrete di Maria Teresa di Savoia. Milan: Mursia, 2002. A biography of Victor's wife Maria Teresa.

Francis IV, Duke of Modena. Descrizione della Sardegna (1812). Edited by Giorgio Bardanzellu. Rome: Arti poligrafiche, 1934 (reprinted Cagliari: Edizioni della Torre, 1993). A detailed description of the island of Sardinia during King Victor's residency there from 1805 to 1814. Includes information about the royal court and about King Victor's daily schedule.
---
This page is maintained by Noel S. McFerran (noel.mcferran@rogers.com) and was last updated August 29, 2017.
© Noel S. McFerran 2003-2017.