Palazzo Colonna
---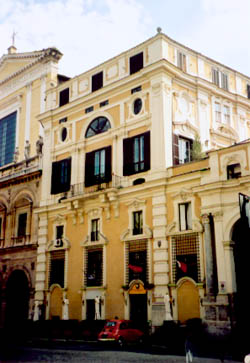 Facade on Piazza dei Santi Apostoli
This palace is located on the east side of the Piazza dei Santi Apostoli next to the Basilica dei Santi XII Apostoli. For almost six hundred years the palace has been the principal residence of the Colonna princes.
When King James III and VIII first came to Rome in 1717, Prince Fabrizio Colonna was his nearest relative in the city; their grandmothers (Laura Martinozzi and Maria Mancini) were first cousins. Living in the neighbouring Palazzo Muti-Papazurri, James must have been a frequent visitor to the Palazzo Colonna.
King Charles Emanuel IV of Sardinia (later King Charles IV) and King Victor Emanuel I of Sardinia (later King Victor) used this palace as their Roman residence on several occasions. 1 Several paintings now in the Museo di Roma record their stay here.
Charles Emanuel and his wife first came to Palazzo Colonna October 20, 1800, and remained until November 19 (when they left for Naples); they resided in the second apartment of the section of the palace called "of Cardinal Pamphilj", having their beds in the "porcelain room". They returned to Palazzo Colonna March 28, 1801, and remained until May 19 (when they left for Caserta); on the day before their departure Pope Pius VII visited them here.
After the death of his wife Queen Marie Clotilde, Charles Emanuel returned to Palazzo Colonna May 21, 1802. Here on June 4, 1802, he abdicated the throne of Sardinia in favour of his younger brother, Victor Emanuel. 2 Charles Emanuel remained at Palazzo Colonna until June 15, 1802, when he transferred his residence to Palazzo Cenci Bolognetti.
Victor Emanuel arrived at Palazzo Colonna the next day, June 16, 1802. He was accompanied by his wife Queen Maria Teresa, and by their eldest daughter Maria Beatrice (later Queen Mary III and II). On June 19, Pope Pius VII visited them here. On September 18, 1803, Victor Emanuel's twin daughters Maria Teresa (later Duchess of Lucca) and Maria Anna (later Empress of Austria) were born in the palace. Two days later the pope himself baptised them in the palace; the Cardinal called Duke of York was invited to attend the baptism, but had to decline on account of his health. Victor Emanuel and his family remained at Palazzo Colonna until May 8, 1804 (when they left for Albano, and from there in June for Gaeta).
Part of the Palazzo Colonna is open to the public Saturdays 9.00 a.m. to 1.00 p.m. (admission € 7,00); entrance is from the Via della Pilotta. Website: www.galleriacolonna.it.