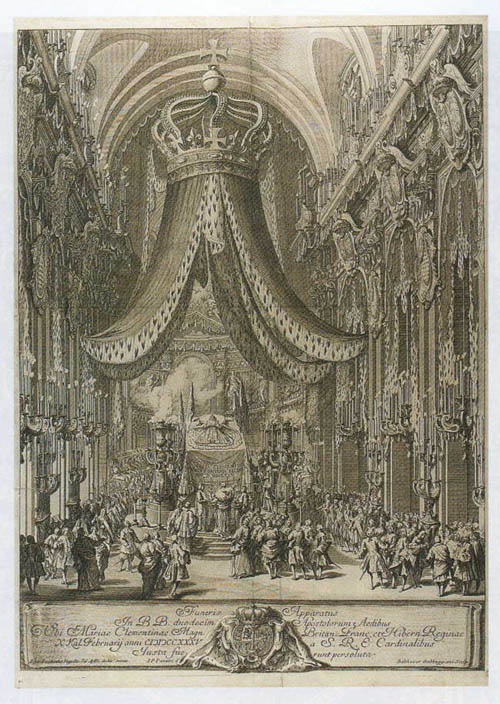 Queen Clementina lying in state
Against the second pillar of the right (south) aisle is preserved the heart of Queen Clementina (died 1735); the monument is by Filippo della Valle. 3 Two cherubs, the left one with a crown in his hand, the right one with a heart in his hand, hover around a large grey urn. Three more cherub heads hover above the urn. Below the monument is a porphyry tablet with a Latin inscription:
HIC CLEMENTINÆ REMANENT PRAECORDIA: NAM COR
CÆLESTIS FECIT NE SVPERESSET AMOR ·

MARIÆ CLEMENTINÆ
MAGN · BRITANN · ET C · REGINÆ
FRATRES MIN · CONV ·
VENERABVNDI PP ·
Here rest the praecordia of Clementina, for the heart
heavenly love did not allow to survive.

To Maria Clementina,
Queen of Great Britain, etc.
the Friars Minor Conventual
reverently placed this.
The Friars Minor Conventual, the priests and brothers who own the church, erected this monument in 1737. 4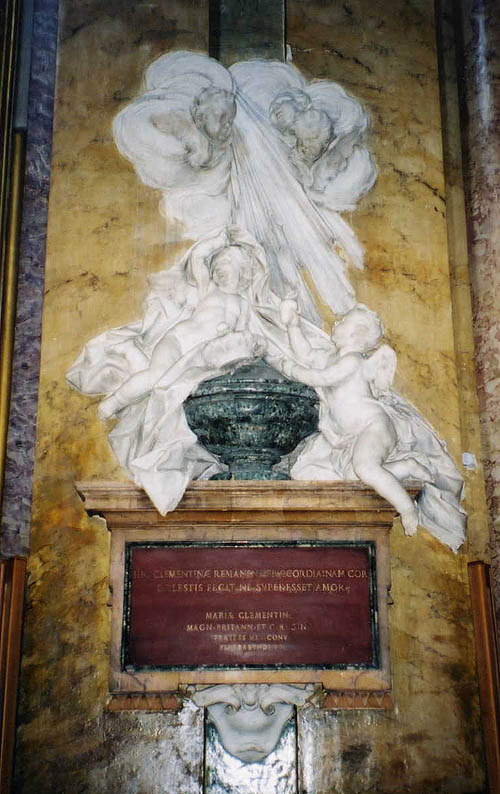 Monument to Queen Clementina
In one of his letters, the French historian Charles de Brosses writes that James "spends each morning in prayer near the tomb of his wife in [the Church of] the Santi Apostoli". 5
Henry, Cardinal Duke of York (later King Henry IX and I) was given this church for his cardinalatial title, December 18, 1752. In 1758 he was ordained to the episcopate in this church by Pope Clement XIII. When he was transferred to the titular church of Santa Maria in Trastevere, February 12, 1759, Henry retained the title of Santi XII Apostoli in commendam (until July 13, 1761).
In his will King James III and VIII had expressed his wish to be buried in this church, but Pope Clement XIII determined that his final resting place should be in the same church as his wife. 6 On the evening of January 5, 1766, James' body was brought from the neighbouring Palazzo Muti (now Palazzo Balestra) and lay in state here for three days. The next day, Cardinal Giovanni Francesco Albani, Protector of Scotland, presided at the requiem mass, Pope Clement XIII being too unwell; Monsignor Orazio Mattei, Chancellor of the Basilica di Santa Maria Maggiore, gave the funeral oration. 7 Then the body was taken in procession to the Basilica di San Pietro, where a second requiem mass was celebrated. 8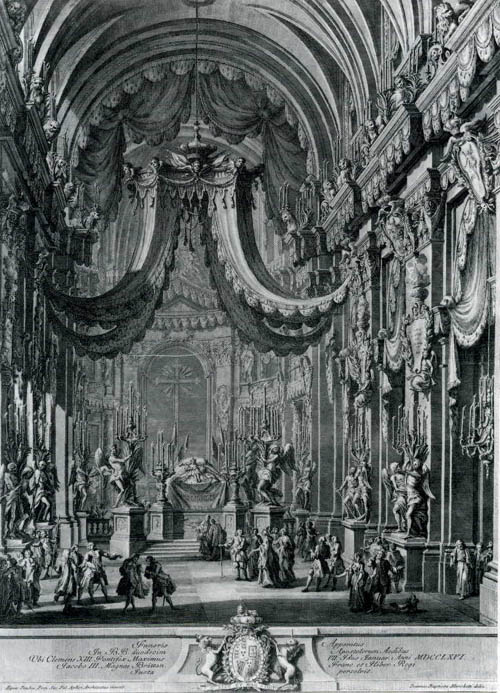 King James III and VIII lying in state
The church is open daily from 7.00 a.m. to 12.00 noon, and from 4.00 p.m. to 7.00 p.m.
---
Notes
1 The death, lying-in-state, and funeral of Maria Clementina are described in issues 2727 (22 gennaro, 1735) and 2729 (29 gennaro, 1735) of the Diario ordinario (Rome: Cracas), http://cracas.casanatense.it.
2 Cf. Andrea Busiri Vici, "Un Dipinto dei Funeri di Clementina Sobieska Stuart nel Museo di Palazzo Braschi", Bollettino dei Musei Communali di Roma 15 (1968): 8-9.
3 Filippo della Valle was born in Florence in 1698, and died in Rome in 1768. He sculpted many ecclesiastical commissions. In 1743 he completed a marble portrait of Catherine Walpole (mother of that great nemesis of the Stuarts, Horace Walpole), now in Westminster Abbey.
4 Emma Zocca, La Basilica dei SS. Apostoli in Roma (Rome: F. Canella, 1959): 121-122. The decision is recorded in the Libro dei Consigli (the official records of the community of Friars Minor Conventual), 1727-1754, page 57. Cf. V. Moschini, "Filippo Della Valle" L'Arte 28 (1925): 182.
5 Charles de Brosses, Letter 40, "To MM. de Tournay and de Neuilly". De Brosses (1709-1777) was a French magistrate and historian, well-known for his letters particularly those he wrote from Italy in 1739 and 1740.
6 Martin Haile, James Francis Edward: The Old Chevalier (London: J. M. Dent, 1907), 449.
7 There is an engraving of the interior of the church as it appeared for James's funeral. It was engraved by Giuseppe Vasi after a painting by Giovanni Battista Marchetti and Paolo Posi.
8 Alice Shield and Andrew Lang, The King Over the Water (London: Longmans, Green, 1907): 474.
Image 1 (Facade): © Noel S. McFerran, 2001.
Image 2 (Queen Clementina lying in state): Engraving by Balthasar Gabrucciani, published in Parentalia Mariae Clementinae Magn. Brit. Franc. et Hibern. Regin. (Rome: Giovanni Maria Salvioni, 1736), reproduced in Fine Printed Books and Manuscripts from the Library of the 17th Earl of Perth (London: Christie's, 2003): 96.
Image 3 (Monument to Queen Clementina): © Noel S. McFerran, 2001.
Image 4 (King James III and VIII lying in state): Engraving by Giuseppe Vasi after Giovanni Baptista Marchetti and Paolo Posi, reproduced in Richard Sharp, The Engraved Record of the Jacobite Movement (Aldershot, Hants.: Scolar Press, 1996), 37.
---
This page is maintained by Noel S. McFerran (noel.mcferran@rogers.com) and was last updated September 2, 2008.
© Noel S. McFerran 2000-2008.