Palazzo Cenci Bolognetti
---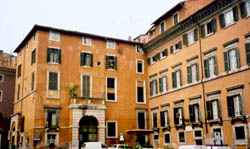 Facade
This palace is located at Piazza delle Cinque Scole, 23.
From June 15, 1802, King Charles Emanuel IV of Sardinia (later King Charles IV) used this palace as his Roman residence. 1 He remained here until 1815 when he moved to the Jesuit novitiate at Sant' Andrea al Quirinale.
---
Notes
1 Fabrizio Colonna La Dimora dei Reali di Savoia nel Palazzo Colonna, 1800-1804 (Rome: Tipografia del Senato, 1922): 24.
Image 1 (Facade): © Noel S. McFerran 2001.
---
This page is maintained by Noel S. McFerran (noel.mcferran@rogers.com) and was last updated March 9, 2004.
© Noel S. McFerran 2000-2004.