D. O. M.
MARIA ADELAIDA CLOTILDA XAVERIA BORBONIA
SARDINIÆ REGINA
CUJUS SANCTISSIMA PIETAS
INGENII DEXTERITAS CONSILII PROBITAS
MORUM SUAVITAS
ULTRA VOTUM STETERUNT
ALIORUM AMANTIOR QUAM SUI
EMENSIS UTRIUSQUE FORTUNÆ SPATIIS
ADVENTANTI FATO
INIMITABILI ANIMI ROBORE
OBVIAM PROCESSIT
REGNO ITALISQUE ORIS
CHRISTIANARUM VIRTUTUM SPECIMEN
EXTERA ETIAM ADMIRATIONE PRÆBENS
PRÆPOSTERO MORBO RAPTA
SUIS OMNIBUS EXAMNIMATIS
ÆTERNUM VICTURA PLACIDISSIME OBIIT
NEAPOLI NONIS MARTII ANNO CI>DCCCII
ÆTATIS SUÆ XLII MENSIBUS V DIEBUS XII
REX CAROLUS EMMANUEL IV
PIISSIMUS CONJUX
LUCTU CONCISUS
DIMIDIO SUI CURARUM LEVAMINE ORBATUS
AD UXORIAS CINERES HIC QUIESCENTES
M. P.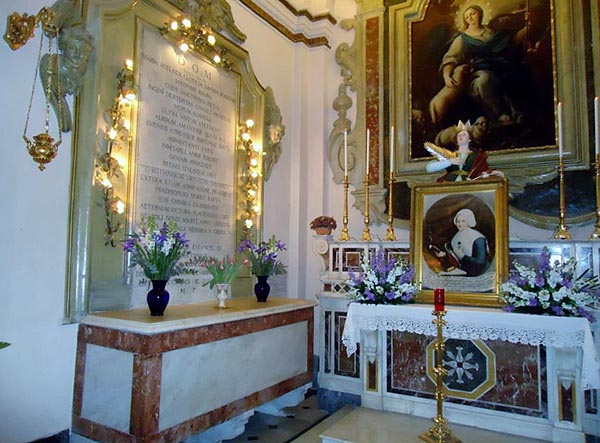 Tomb of Queen Marie Clotilde
At the Musée des Ursulines in Maçon there is a painting of the tomb by Jean-Pierre Franque. In 1818 the painting was acquired by Marie Clotilde's brother King Louis XVIII of France and placed in the royal collection at the Palais du Louvre. In 1873 it was transferred to Maçon.3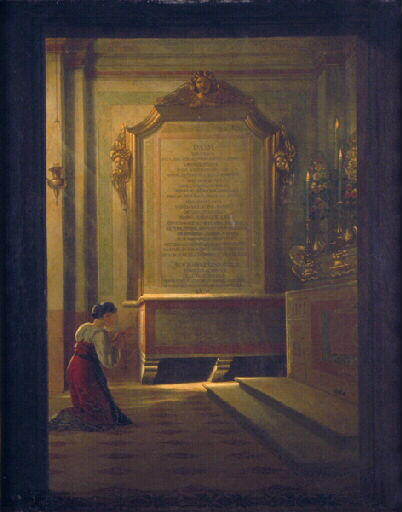 Painting of the Tomb of Queen Marie Clotilde
An inscription to the right of the tomb records that in 1933 the chapel was restored by the Prince of Piedmont (later King Umberto II of Italy).4
SACELLVM HOC DIVINAE PASTORALE DICATVM
IN QVO VENERABILIS
MARIAE ADELAIDAE CLOTILDAE SARDINIAE REGINAE
CORPVS REQVIESCIT
VMBERTVS A SABAVDIA PEDEMONTII PRINCEPS
SVIS SVMPTIBVS
INSTAVRANDVM ORNANDVMQVE CVRAVIT
ANNO SACRO SAECVLI HVMANAE REDEMPTIONIS RECVRRENTE
MCMXXXIII
On the wall facing the tomb is a white alabaster urn with grey handles containing the heart of Maria Teresa of Savoy, sister of King Charles IV and King Victor, and wife of the comte d'Artois (later King Charles X of France), brother of Queen Marie Clotilde.5 Maria Teresa died in Graz in 1805; in 1839 her son the duc d'Angoulême had her heart placed here next to the tomb of her dear friend and sister-in-law according to her wishes. On the vase is an inscription in French: "Ici est le coeur de Très haute, très illustre et très puissante Princesse Marie-Thérèse de Savoie, Comtesse d'Artois, morte á Graz le 2 juin 1805".6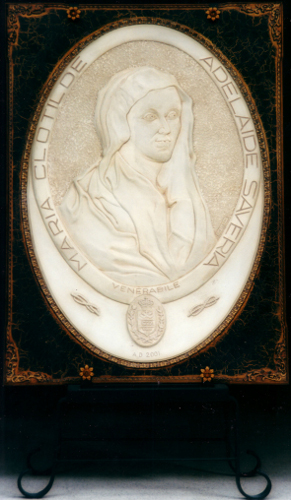 Sculpted Relief of Queen Marie Clotilde
In 2001 a sculpted relief of Queen Marie Clotilde was installed in the chapel.7 It was sculpted by Domenico Velletri and is made of "pietra di Lecce", a type of limestone from Puglia in southern Italy.
In the sacristy are preserved several items connected with King Charles IV and Queen Marie Clotilde.8 Among these is Charles' death mask.
Every year on March 7 (the anniversary of Queen Marie Clotilde's death) there is a solemn commemoration including mass. This is preceded by a triduum with vespers on March 4, 5, and 6.9 In 2012, Prince Serge of Yugoslavia, second cousin of King Francis II, was present for the occasion.10
Church website: www.santacaterinachiaia.it. Telephone: 081 41 39 24.
Notes
1 Luigi Bottiglia, Vie de la vénérable servante de Dieu, Marie-Clotilde-Adélaid-Xavier de France, Reine de Sardaigne, translated by J. B. Idt (Lyon: Rusand, 1823): 183.
2 François-Charles Uginet, "Portrait d'une reine: Un tableau de Bernardino Nocchi à l'abbaye de Hautecombe (Savoie)", Alla signorina: mélanges offerts à Noëlle de La Blanchardière. Collection de l'École française de Rome, 204 (Rome: École française de Rome, 1995), 385.
3Joconde: Catalogue des Collections des Musées de France. Jean-Pierre Francou (called Franque) was born at Buis-les-Baronnies in 1774 and died at Quintigny in 1860.
4 Uginet, 384. Among other things, Umberto placed two votive lights in the chapel.
5 Uginet, 384. Maria Teresa was the grandmother of the duc de Bourdeaux who married Princess Maria Beatrice, sister of King Francis I.
6 "Maria Teresa di Savoia", Tricolore 106 (31 gennaio 2006): 43.
7 "Velletri (Domenico), Pittore, Scultore", http://www.velletridomenico.it/sculture.php. The plaque measures 100 cm wide and 140 cm high.
8 Uginet, 385.
9 "Santa Caterina a Chiaia, Sezione Attività", http://www.santacaterinachiaia.it/attivita.asp.
19 Sacro Militare Ordine Constantiano di San Giorgio, Delegazione di Napoli e Campania, "7 marzo 2012, con Sergio di Jugoslavia".
Image 1 (Facade of Santa Caterina a Chiaia): http://it.wikipedia.org/wiki/File:Caterina2.jpg.
Image 2 (Tomb of Queen Marie Clotilde): http://www.costantinianocampania.it/blog/7-marzo-2012-con-sergio-di-jugoslavia/.
Image 3 (Painting of the Tomb of Queen Marie Clotilde): Joconde: Catalogue des Collections des Musées de France.
Image 4 (Sculpted Relief of Queen Marie Clotilde): "Velletri (Domenico), Pittore, Scultore".