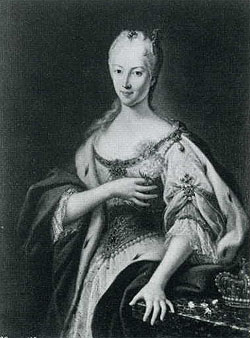 Queen Maria Clementina, by Pesci
The Museo del Prado in Madrid features one of the world's finest collections of European art. Among the paintings is a portrait of Queen Maria Clementina, wife of King James III and VIII, by Girolamo Pesci.1 It was painted in 1721, the same year that Pesci painted a portrait of King James with a page, and a portrait of Queen Maria Clementina with Prince Charles; both of these portraits are now at Stanford Hall.
In the Prado portrait Maria Clementina is shown standing three-quarter length. She rests her left hand on a table which has a flower and a crown on it. She is dressed very similarly to the Stanford Hall portrait. She wears a dress embroidered with pearls and jewels, with an ermine cape over her right shoulder.
Edward Corp says that the portrait was one of two identical works painted by Pesci, "one to be sent to Bayonne, the other for the Duchess of Mar".2
There is a portrait by Giuseppe Duprà of the Infanta Maria Antonia of Spain, mother of King Charles IV and King Victor, with two of her daughters.3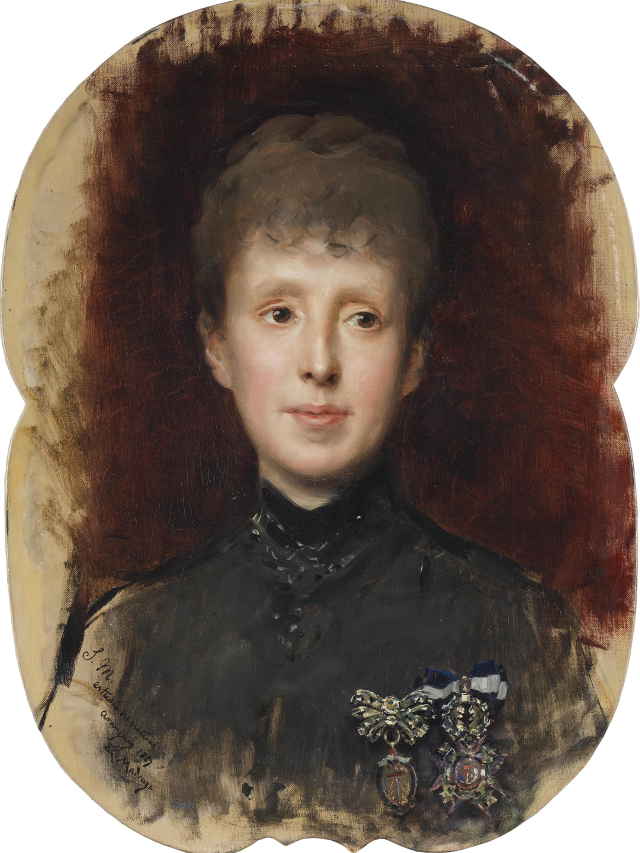 Queen Maria Cristina of Spain
There is a portrait of Queen Maria Cristina of Spain, half-sister of Queen Mary IV and III, by Raimundo de Madrazo y Garreta.4