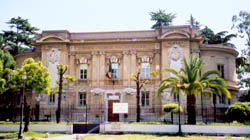 Exterior of the museum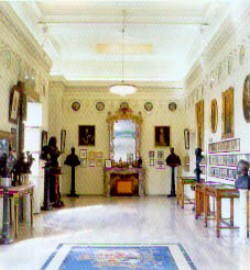 Salone d'Onore
This is one of several military museums located at Piazza Santa Croce in Gerusalemme 7, immediately to the left of the Basilica di Santa Croce. The Granatieri di Sardegna are a regiment founded in 1659 by Duke Carlo Emanuele II of Savoy. 1 The museum owns several portraits of King Charles IV (King Charles Emanuel IV of Sardinia) and King Victor (King Victor Emanuel I of Sardinia).
If one climbs the grand staircase to the second floor (first floor above ground) and crosses the hallway, one enters the Salone d'Onore (Hall of Honour). On the short right wall to the right of the large mirror is an oil portrait of King Charles IV wearing the badge of the Supreme Order of the Annunciation; to his right is a royal crown and the baton of a field marshall.
On the wall separating the room from the hallway is an oval portrait of King Victor when just a youth. He wears the badge and the star of the Supreme Order of the Annunciation. On the same wall is a second portrait of King Victor; this one is also oval but is in a rectangular frame (and is damaged).
Running along all four walls immediately below the ceiling is a frieze made up of a series of round portraits of each of the heads of the House of Savoy. King Charles IV and King Victor are numbers 36 and 37; the likenesses are based on the first and second portraits discussed above.
The museum is open weekdays from 9.00 a.m. to 12.00 noon. There is no entrance fee. To enter the museum one should go to the office in the modern building immediately to the left of the entrance to the compound. One will be given a very extensive tour of the entire building (learning about the long history of the Granatieri), concluding with an opportunity to see the portraits.