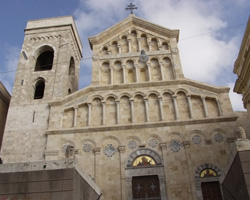 Facade
The city of Cagliari is located at the southern end of the island of Sardinia. The cathedral of the city is located in Piazza Palazzo. In the crypt are buried the only son of King Victor, as well as one of his aunts (sister of King Charles IV and of King Victor).
Here in 1812 Princess Mary Beatrice of Savoy (later Queen Mary III and II) married Archduke Francis of Austria (later Duke Francis IV of Modena).
The crypt of the cathedral (called the "Santuario dei Martiri" on account of the numerous bodies of martyrs preserved there) lies below the choir and presbytery. It is divided into three chapels - a central one, one to the left, and one to the right.
The chapel on the left is dedicated to San Saturnino. Here is buried the only son of King Victor, Prince Charles Emanuel of Savoy (elder brother of Queen Mary III and II) who died of small-pox when he was less than three years old. At the time he was third in line to the English and Scottish thrones - after his uncle (later King Charles IV) and his father (later King Victor).
The funerary monument for Prince Charles Emanuel was designed by the Franciscan Conventual Fra Antonio Cano. It is a sarcophagus made of a variety of marbles. On the front is a Latin inscription which reads in part: 1