The Palacio Real, also known as the Palacio de Oriente, is the official residence of the King of Spain. It is located on Bailén Street, in the Western part of downtown Madrid, east of the Manzanares River, and is accessible from the Ópera metro station. When not being used for state ceremonies, the palace is partially open to public.
Among the paintings in the palace is one by Giuseppe Duprà of a young Victor Emanuel, Duke of Aosta (later King Victor).1 Victor, aged three, is shown standing. He wears a long floor-length dress embroidered with tassels. On his head he has a white bonnet decorated with a bow on the right side. In his hands he holds a short sword. At his feet sits a small dog.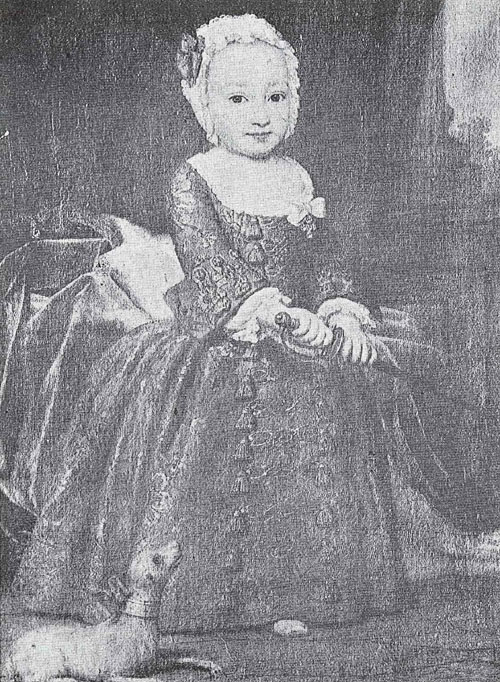 Victor, when Duke of Aosta, by Duprà
There are a number of paintings in Madrid of Victor and his brothers and sisters. They were presumably sent to by Victor's mother Infanta Maria Antonia of Spain as a gift to her brother King Charles III of Spain. Most of these paintings are copies by Giuseppe Duprà of works by his older brother Domenico which hang in the Palazzo Reale in Turin; I have not been able to locate the original of Victor's portrait.
In the Salón de Embajadores hangs a portrait of Victor's younger brother Prince Maurizio of Savoy, Duke of Montferrat.2
Notes
1 Jesus Urrea Fernández, La Pintura Italiana del Diglo XVIII en España (Valladolid: Departamento de Historia del Arte, 1977), 427-428. Giuseppe Duprà was born in Turin in 1703 and died in 1784. He painted numerous portraits for the Savoy family.
2 Urrea Fernández, 428. The original version of the painting hangs in the Palazzo Reale in Turin.
Image 1 (Victor, when Duke of Aosta, by Duprà): Urrea Fernández, lamina CLX.