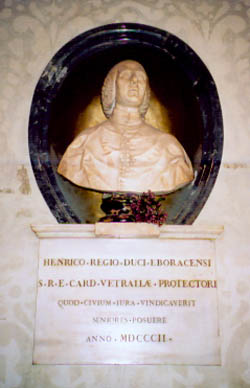 Bust of King Henry IX and I
The town of Vetralla is located about ten miles south of Viterbo. The Cardinal Duke of York (later King Henry IX and I) visited the town in 1776; he stayed at Villa Palazona, at the time owned by the Bishop of Viterbo, and now owned by the Marini Balestra family.
In the Palazzo Communale (the city hall, formerly called the Palazzo dei Priori) Henry noticed a marble tablet recording the protection of the town by King Henry VIII. 1 On account of this English connection, the Cardinal Duke of York subsequently took an interest in the town and presented it with a white marble bust of himself.
Today the bust is located in the Sala Consigliare (the council chambers) on the second floor (first floor up) of the Palazzo Communale; the bust is in a dark grey marble niche on the left wall as one enters the room. Below the niche is a white marble tablet with the following Latin inscription: