The town of Subiaco is located fifty kilometres east of Rome. The Monastery of Saint Scholastica is located 1.5 kilometres east of the town
On the walls of the cloister are painted the portraits of various popes who have visited the monastery. On the right side of the cloister is a fresco of King James III and VIII who visited the monastery in 1733. James is shown standing on top of a plinth. He is dressed as a Roman general with breast armour, a leather-strip kilt, and a red cape. He holds a scepter in one hand and has a crown at his feet.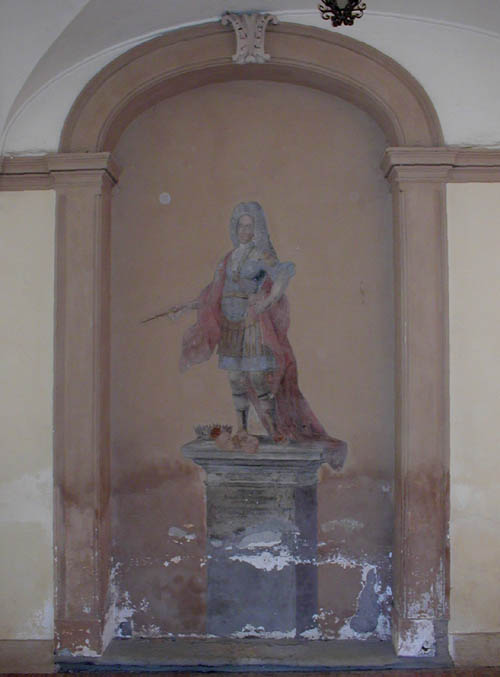 James III and VIII
On the plinth is a painted Latin inscription:
JACOBO. III.
MAGNÆ. BRITANNIÆ. REGI
FIDEI. DEFENSORI
QVOD. PRIMARIVM. HOC. DIVAE. SCHOLASTICÆ. MONASTERIVM
ILLVDQVE. SACRÆ. SPECVS
ITAQVE. S.P. BENEDICTVS. TRIENNIO. DETVLIT
SVIQUE. ORDINIS. TOTO. ORBE. DIFFVGI
FVNDAMENTA. JECIT. AC. ANGLIAM. VNIVERSAM
PER. SVOS. ALVMNOS
AB. IDOLORVM. CVLTV. AD. FIDEM. CHRISTI
PERDVXIT
ROMA. SVBLACUM. VENERATVRVS. ADVENERIT
IN. IISQVE. ILLUSTRIA. AVITÆ. RELIGIONIS
PROPRIAEQVE. PIETATIS. EXEMPLA. RELIQVERIT
ABBAS. ET. MONACHI. HVIUS. MONASTERII
GRATI. ANIMI. MONVMENTVM. HVMILLIMI. POSVERE
ANNO DOMINI MDCCXXXIII
The fresco, particularly the lower part containing the inscription, was significantly damaged during World War II. 1
In September 1754 the Cardinal Duke of York (later King Henry IX and I) visited the monastery.
The monastery is open daily for guided tours in Italian.
---
Notes
1 Alec Guiness, Blessings in Disguise (London: Hamish Hamilton, 1985), 47-48: "In the entrance to the monastery there is a fresco of 'King James the Third of England' -- the Old Pretender -- riddled with bullet holes. The Abbot shrugged sadly at it. 'One day,' he said, 'we will repair it. The Germans broke in and thinking he really had been the King of England opened fire on the fresco with machine guns." Guiness visited Subiaco in the early 1960's.
Image 1 (James III and VIII): © Noel S. McFerran 2004.