IACOBO · III · ET · CLEMENTINAE ·
REGI · REGINAEQVE · BRITANNORVM ·
OPTIMIS · PIISSIMISQVE · PRINCIPIBVS ·
QVOD · AB · ALBANA · RVSTICATIONE · DIVERTENTES ·
DOMVM · HANC ·
PER · DIEM · FERE · INTEGRAM · QVAR · NON · NOV ·
IN · REGIAE · MAIESTATIS · HOSPITIVM ·
CONSTITVERINT ·
CAROLVS · BONELLVS ·
NICOLAVS · ET · FRANCISCVS · MANGANONI ·
EX · SORORE · NEPOTES ·
OBSEQVENTISSIMI · ANIMI · MONVMENTVM ·
FACIVNDVM · CVRARVNT ·
ANNO M · D · CCXXIII ·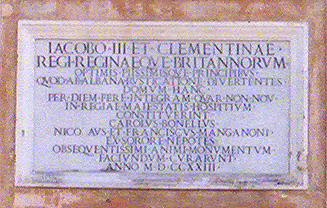 Inscription
In the mid-1970's the villa was in a state of abandonment, but today (2002) it is beautifully maintained by the owner Signora Pala Da Cosimo.
Lanuvio is easily reached from Rome by the train which goes to Velletri; there is a bus which takes train passengers up the long steep hill to the town centre. There are also buses which pass through Piazza Carlo Fontana and go to Genzano or Velletri.
---
Notes
Image 1 (Facade): © Noel S. McFerran 2002.
Image 2 (Inscription): © Noel S. McFerran 2002.