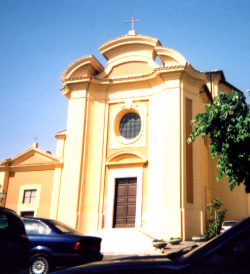 Facade
The town of Colonna is located about 30 kilometres east of Rome.
At the highest point and the centre of the town is located the parish church of Saint Nicholas in Piazza Duca di Gallese, 2. In 1771 the church was consecrated by Henry, Cardinal Duke of York (later King Henry IX and I). High up on the right wall towards the back of the church is a Latin inscription (on a plaque approximately 1.0 m. high x 1.75 m. wide):
D· O· M·
IN HONOR· B· M· V· ET S· NICOLAI EPISC·
AB EXCEL· FAMILIA PALLAVICINI PATRONA
TEMPLUM A FUNDAMEN· EXCITATUM
HENRICUS CARD· DUX EBOR· S· R· E· VICECANC·
EPISCOPUS TUSCULANUS
DEDICAVIT
INDUL· CONC· XIII· KALEN· NOVEMB· MDCCLXXI
FESTUMQ· DIEM QUOTANNIS
DOMINICA III OCTOB·
CELEBRANDUM INSTITUIT
(Telephone: 39.06.9438160).