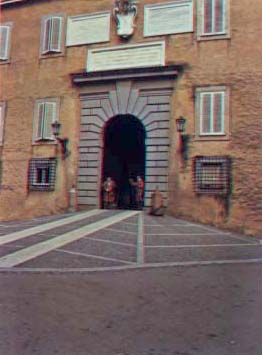 Facade
The town of Castel Gandolfo is located on the shores of Lake Albano about twenty kilometres south of Rome. It is most famous as the summer residence of the popes.
King James III and VIII stayed at the pope's villa for three days in June 1717. 1
There was much discussion in the later half of 1718 about the papal villa becoming the major residence for James and his bride-to-be, Princess Clementina Sobieska. In a moment of weakness Pope Clement XI offered the villa to James. But in October James wrote to Cardinal Gualterio, "The Pope does all he can underhand to hinder my going there, but, as he does not retract his promise, I always persist in going there." 2
The following month David Nairne wrote to James, "The Pope, speaking of Castello, said you would find it in winter ten times worse than Urbino and not inhabitable, besides its not being a secure place for your person, but, said he, the King is master and I would not have him or anybody else think that, because it is the only little place of conveniency I have for myself, I am unwilling to part with it, for God knows, if it were a thing proper to be done, I would give him with all my heart even this very place." 3
In fact, the villa was not entirely suitable for James. The popes never used it in winter, and therefore it was not fitted with any fireplaces or chimneys. Extensive plans were made up for installing fireplaces, but without damaging any of the fabric; in the end only a few were actually installed. The papal villa was not large enough to accommodate James' court. The neighbouring Villa Barberini was suggested as appropriate for housing the court, but Cardinal Barberini refused. 4 By December 1718 James had decided to remain in Rome for the winter and only to go to Castel Gandolfo in the spring.
In 1719 James accepted Palazzo Balestra in Rome as his major residence, and was given Palazzo Savelli in Albano Laziale as his summer residence.
On September 25, 1952, King Rupert was received by Pope Pius XII at Castel Gandolfo. 5