The town of Possagno is located 50 kilometres north-west of Venice. It is most famous as the birthplace of the sculptor Antonio Canova.
The Museo Canova (sometimes called the Museo Canoviano or formerly the Gipsoteca) houses over 300 works by the scupltor, mostly in gesso. There is a small gesso model for the monument to the Stuart kings in the Vatican Basilica.1 There is a model in gesso of the portraits of King James III and VIII, King Charles III, and King Henry IX.2 There are two models in gesso of the angels from the monument.3
Also in the collection are four pieces associated with the Monument to Count Vittorio Alfieri erected by Queen Louise in the Basilica di Santa Croce in Florence: the gesso original of an early stele version, a small model in gesso of the weeping Italia, a partial model of the final monument in gesso, and a second figure of Italia in gesso.4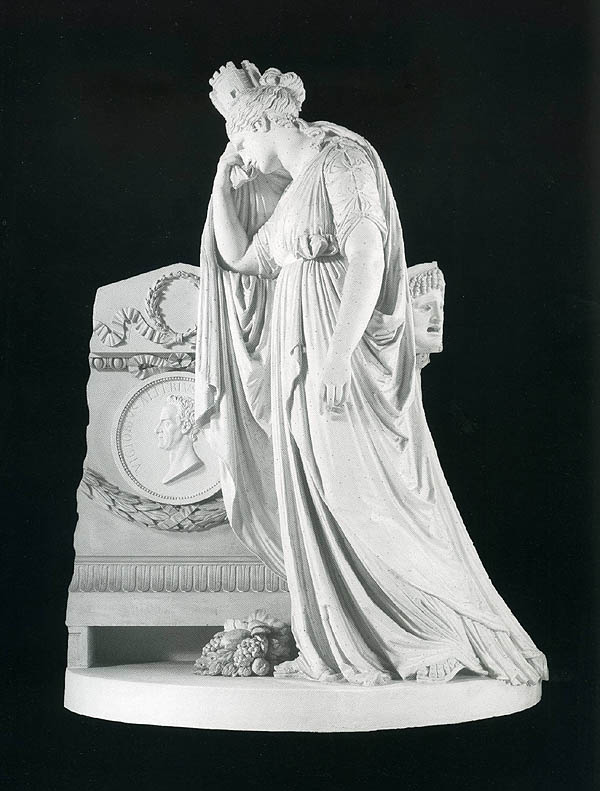 Gesso model of the Monument to Count Vittorio Alfieri
Possagno is not reachable by train, but there are busses from Bassano del Grappa and Castelfranco Veneto.
---
Notes
1 Elena Bassi, Antonio Canova a Possagno: Catalogo delle Opere, Guida alla Visita della Gipsoteca, Case e Tempio (Treviso: Edizioni Canova, 1972), 100. The model measures 69 cm X 58 cm X 10.5 cm.
2 Bassi, 102. The model measures 60 cm high X 165 cm wide.
3 Bassi, 102. Both models measure 215 cm high X 115 cm wide.
4 Bassi, 65-66. The stele measures 367 cm high X 210 cm wide. The small model of Italia measures 69 cm X 35 cm X 28 cm. The model of the final monument measures 310 cm X 240 cm X 95 cm. The second figure of Italia measures 109 cm X 97 cm X 77 cm.
Image 1 (Gesso model of the Monument to Count Vittorio Alfieri): Aldo Scibona, Canova, La Mano di Dio: Biografia (Villorba: Edizioni Treviso, 2008), 262.