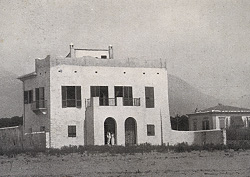 Villa Hildebrand
The town of Forte dei Marmi is located on the west coast of Italy about 90 kilometres west of Florence.
The famous German sculptor Adolf von Hildebrand owned a villa here which was used for several vacations by Rupert, Duke of Cornwall and Rothesay (later King Rupert) and his first wife. 1
During the Second World War the Royal Family were in the habit of vacationing here each summer. They stayed in the Pension Bellavia owned by the Frullani family. 2
---
Notes

2 Irmingard Prinzessin von Bayern, Jugend-Erinenerungen, 1923-1950 (St. Ottilien, Germany: EOS, 2000): 241-251.

Image 1 (Landhaus Hildebrand): Alexander Heilmeyer, Adolf von Hildebrand (München: Albert Langen, 1922), tafel 116.