For other parts of the Palace of Versailles, see here.
Appartement du Roi, 2de Antichambre
The 2de Antichambre of the Appartement du Roi (the Chambre de l'Oeuil de Bouef) is one of three rooms next to the Gallery of Mirrors. In this room hangs a large mythological portrait by Jean Nocret of the family of King Louis XIV of France.1 The painting formerly hung in the bedroom of Princess Henrietta Anne (sister of King James II and VII) at Saint-Cloud. Queen Henrietta Maria (mother of King James II and VII) can be seen at the far left dressed as the sea-goddess Amphitrite; she holds a triton in her left hand and a piece of coral and some pearls in her right hand. Next to her sits her son-in-law, Philippe, duc d'Orléans, dressed as Dawn. Standing next to Philippe is his wife Princess Henrietta Anne dressed as Flora. Between Philippe and Henrietta Anne is their eldest daughter Marie-Louise d'Orléans, later Queen of Spain, dressed as Zephyr.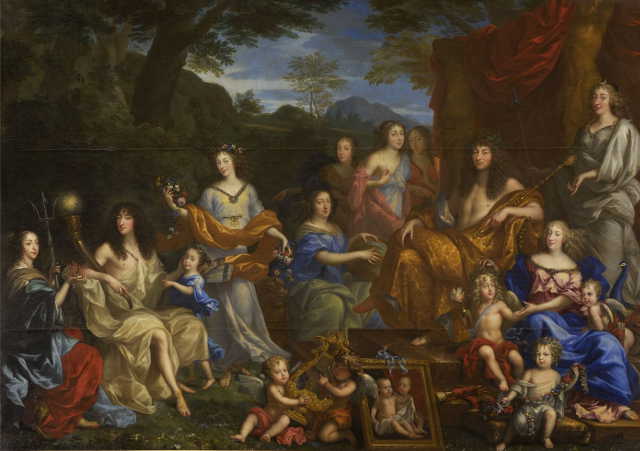 The Family of King Louis XIV of France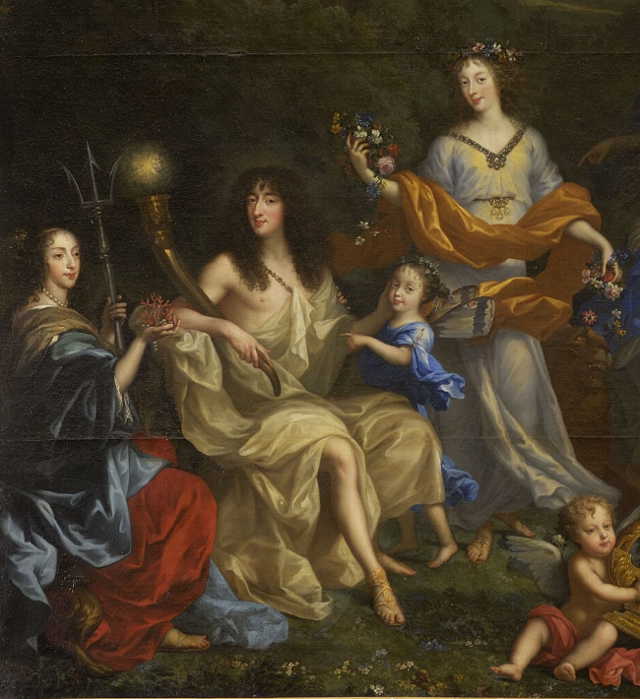 Queen Henrietta Maria with her daughter, son-in-law and granddaughter
Salon d'Hercule
From 1682 to 1710 this room was the palace chapel. It was in this room on December 7, 1697, that Princess Marie-Adelaide of Savoy, granddaughter of Princess Henrietta Anne, duchesse d'Orléans, married Louis, duc de Bourgogne, in the presence of the bride's great-uncle King James II and VII. There is a painting of the wedding in the eighth room of the Salles Louis XIV.
Galerie des Batailles
The Galerie des Batailles is located in the south wing of the palace. It was built by Louis Philippe, duc d'Orléans, called "King of the French", to commemorate French military history
There is a bust of James Fitz-James, 1st Duke of Berwick, illegitimate son of King James II and VII. The bust was sculpted by Antoine Laurent Dantan in 1839.2 After fighting for his father's cause in Ireland, Berwick served in the French army. He was named a Marshall of France in 1706.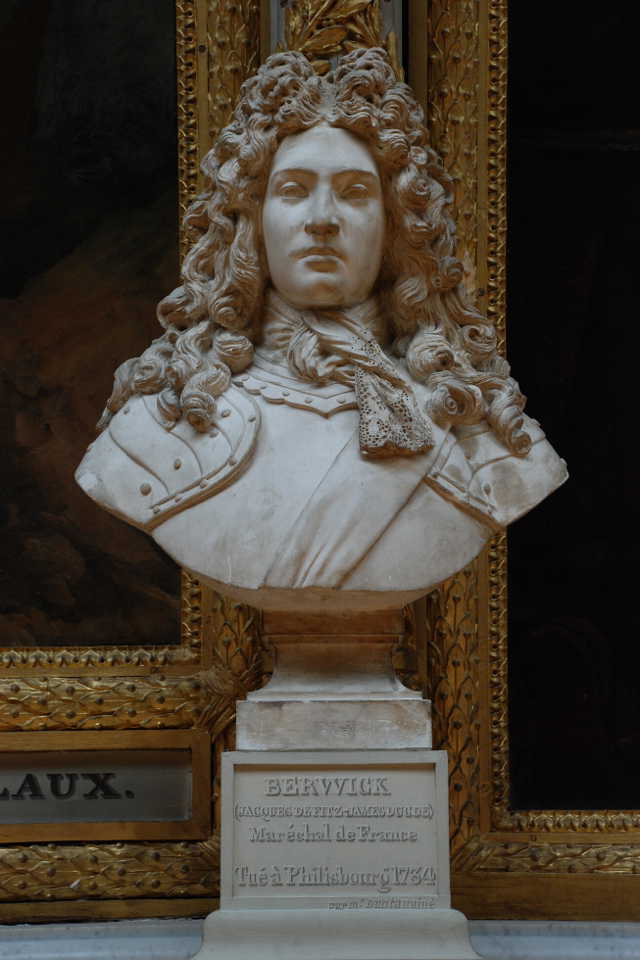 James FitzJames, 1st Duke of Berwick, by Dantan ainé