This church is located at the intersection of Strada Maggiore and Via Rizzoli, at the foot of the famous "two towers". A view of the church appears in the background of Gionima's painting The Reception of King James III and VIII now in Castel Sant' Angelo.
In a chapel on the left side of the church is the tomb of Laura Bentivoglio Davia, Countess of Almond. There is a Latin inscription:>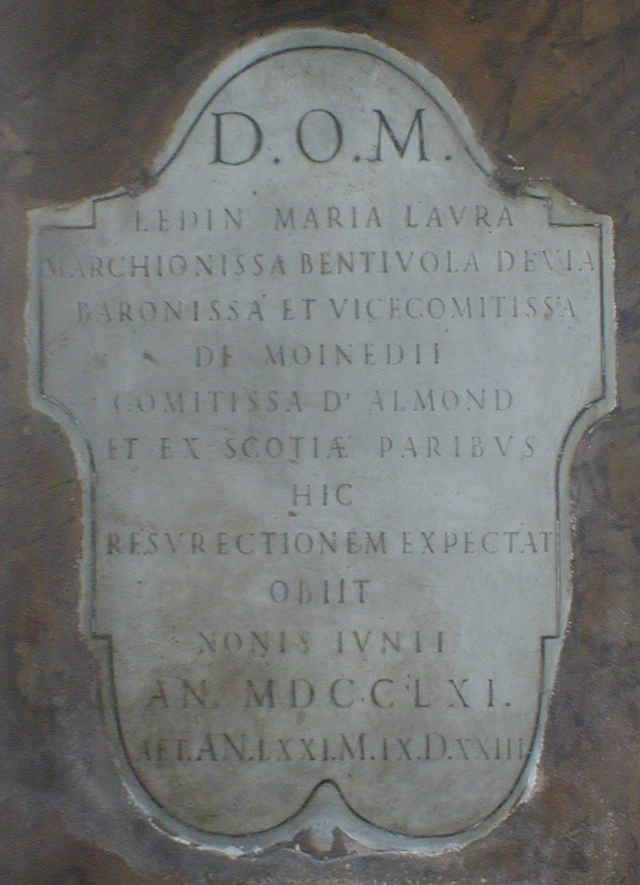 Tomb of Laura Bentivoglio Davia, Countess of Almond

D.O.M.
LEDIN MARIA LAVRA
MARCIONISSA BENTIVOLA DEVIA
BARONISSA ET VICECOMITISSA
DE MOINEDII
COMITISSA D'ALMOND
ET EX SCOTIÆ PARIBVS
HIC
RESVRECTIONEM EXPECTAT
OBIIT
NONIS IVNII
AN. MDCCLXI.
AET. AN. LXXI. M. IX. D. XXIII

To the most excellent great God,
Ledin Maria Laura,
Marchesa Bentivoglio Davia,
Baroness and Viscountess
of Mondeydie,
Countess of Almond,
and from the Scottish Peerage,
here
awaits the resurrection.
She died
on the Nones of June [June 5],
in the year 1761,
at the age of 71 years, nine months, 23 days.

Laura Bentivoglio Davia was the wife of Francesco Davia, 2nd Earl of Almond. Francesco was the younger son and eventual heir of Virgilio Davia, who in 1698 was raised to the peerage of Scotland as Earl of Almond, Viscount of Moneydie, and Baron Davia by King James II and VII.1

Virgilio Davia's wife and Francesco Davia's mother (and therefore Laura's mother-in-law) was Victoria Montecuccoli Davia, Queen Mary Beatrice's lifelong companion who was created Countess of Almond in 1689.2

Notes

1 Melville de Massue de Ruvigny, The Jacobite Peerage, Baronetage, Knightage & Grants of Honour (Edinburgh: T.C. & E.C. Jack, 1904), 8.

2 Ruvigny, 7. Adolfo Albertazzi, La Contessa d'Almond (Bologna: Ditta Nicola Zanichelli, 1894); this work provides extensive details about the Countess of Almond and her family.

Image 1 (Tomb of Laura Bentivoglio Davia, Countess of Almond): © Noel S. McFerran 2008.