The Museo Davia Bargellini is located at Strada Maggiore 44. It houses a museum which includes a picture gallery as well as several rooms dedicated to the applied and industrial arts.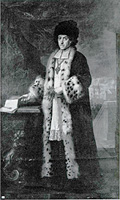 Cardinal Gian Antonio Davia
The collection includes, but not currently on public display, a portrait of Cardinal Gianantonio Davia (1660-1740) who was made Cardinal Protector of Scotland by King James III and VIII on January 8, 1727. 1 On April 27, 1728, he was named James' Minister at Rome. 2 When James visited Pesaro for the first time in March 1717, he stayed in Cardinal Davia's palace there.
The wife of Cardinal Davia's brother was Donna Anna Victoria Montecuculi accompanied Queen Mary Beatrice, wife of King James II and VII when she escaped from Whitehall Palace in December 1688. Shortly after their arrival at the Château de Saint-Germain-en-Laye, Donna Anna was created Countess of Almond, for life, on January 3/13, 1689. 3 On April 12, 1698, her husband Senator Virgilio Davia, brother to Cardinal Davia, was created Earl of Almond, Viscount of Moneydie, and Baron Davia. 4 Count Antonio Davia (perhaps a son?) was named a Groom of the Bedchamber to King James, February 6, 1702. 5 I have not been able to determine if there are other items connected with the Earl and Countess of Almond at the museum.
The collection also includes a cameo showing Queen Mary III and II with her husband Duke Francis IV of Modena. 6 There are several other cameos of young princesses which might be Queen Mary's sisters.
Notes
1 Melville de Massue de Ruvigny, The Jacobite Peerage, Baronetage, Knightage & Grants of Honour (Edinburgh: T.C. & E.C. Jack, 1904), 227.
2 Ibid., 233.
3 Ibid., 7.
4 Ibid., 8.
5 Ibid.
6 Simonetta Stagni, Piccoli artifici: miniature e ritrattini dalle raccolte civiche (Bologna: Nuova alfa editoriale, 1991).