Prince Joseph Wenzel of Liechtenstein
---
Joseph Wenzel Maximilian Maria von und zu Liechtenstein was born May 24, 1995 at Portland Hospital in London. He is the son of Alois, Hereditary Prince of Liechtenstein and of his wife, Duchess Sophie in Bavaria. From his birth he has borne the title of "Prince of Liechtenstein". Joseph Wenzel is named in honour of his ancestor Josef Wenzel, Reigning Prince of Liechtenstein from 1712 to 1718 and from 1748 to 1772. He bears the name Maximilian in honour of his grandfather, and the name Maria in honour of Our Lady.
After his grandfather and his mother, Joseph Wenzel is heir presumptive to the British rights of his great uncle Francis. Joseph Wenzel is the first heir presumptive to the throne to be born in England since King James III and VIII in 1688. Although his mother, Sophie, is recognised by the Jacobites as "The Princess Sophie of England, Scotland, France, and Ireland", Joseph Wenzel will not bear such a title until and unless his mother succeeds to the British rights of her uncle, Francis. Nor can Joseph Wenzel quarter the Royal Arms, until his grandfather Max dies leaving all his daughters as heraldic heirs.
Joseph Wenzel has a younger sister, Marie-Caroline, and two younger brothers, George and Nicholas. They live with their parents in Liechtenstein.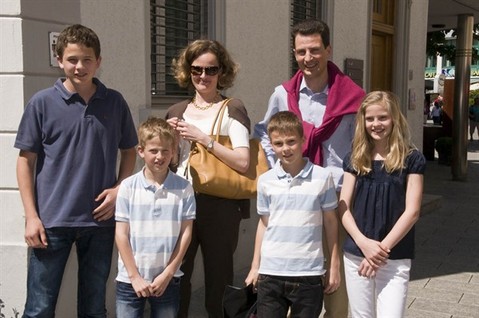 H.S.H. Prince Joseph Wenzel of Liechtenstein
with his parents, sister, and brothers, Summer 2009
---
This page is maintained by Noel S. McFerran (noel.mcferran@rogers.com) and was last updated January 11, 2010.
© Noel S. McFerran 1998-2010.