Palazzina di Santa Marta
---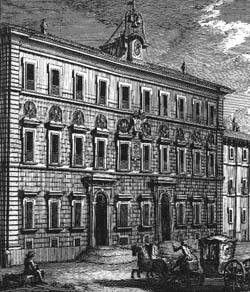 Palazzina di Santa Marta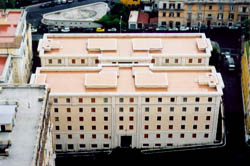 Casa di Santa Marta
This palace, now destroyed, was formerly assigned to the Archpriest of the Vatican Basilica, an office held by Henry, Cardinal Duke of York (later King Henry IX and I) from November 14, 1751 until his death. The palace was located immediately to the south of the south transept of St. Peter's Basilica.
Henry did not use the palace as a residence, but he certainly made use of it during the day. There are passing references to the palace in Henry's diary, where it is usually identified as the casino next to St. Peter's Basilica. 1 On November 18, 1753, Henry entertained Pope Benedict XIV and his father King James III and VIII at the palace. 2 Alice Shield recalls that in the summer of 1754 Henry remained in Rome, instead of going as usual to Albano, and "diverted his mind by enlarging his house in the Vatican precincts". 3
The palace was demolished sometime before 1934. On the same site a new building was completed in 1995 which is called "Casa di Santa Marta". This building is used to house various groups of ecclesiastics and is the residence of the cardinals during papal conclaves. An excellent view of "Casa di Santa Marta" can be had from the dome of St. Peter's.
---
Notes
1 Cf. Diario per l'Anno MDCCLXXVIII di Enrico Benedetto, Cardinale Duca di Yorck (London: Chiswick Press, 1876), 161, 164, 176, 178. Cf. also Alice Shield, Henry Stuart, Cardinal of York, and His Times. (New York: Longmans, Green, 1908), 145 and 162.
2 Shield, 162.
3 Shield, 164. Cf. Véra Belin de Soussaline, "La Palazzina di Santa Marta in Vaticano: A la sainte mémoire du Cardinal Merry del Val, Souvenirs personnels", Revue apologetique 59 (1934): 83.
Image 1 (Palazzino di Santa Marta): Giuseppe Vasi, Delle magnificenze di Roma antica e moderna (Rome: Stamperia del Chracas, 1747-1761): IX, plate 166.
Image 2 (Casa di Santa Marta): © Noel S. McFerran 2001.