Basilica di Santa Maria in Domnica (or della Navicella)
---
This church is located in Piazza della Navicella south of the Colosseum.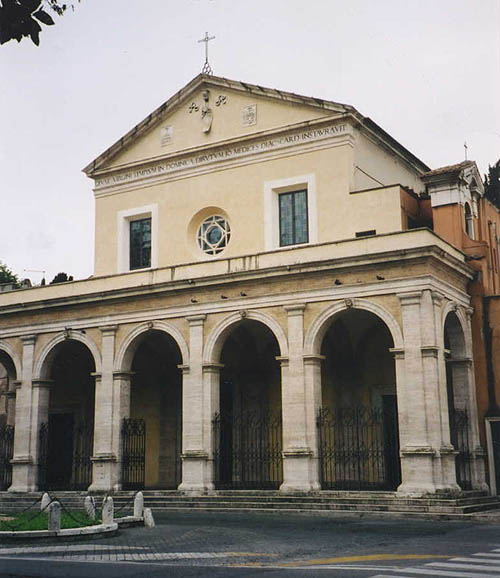 Facade
Below the floor at the far end of the right aisle just past the entrance to the sacristy is the last resting place of Queen Antonia (died 1954), second wife of King Rupert; her heart is in the Gnadenkapelle at Altötting.
On the right wall there is a white marble tablet (88 cm wide, 36 cm high) erected to Antonia's memory. At the left of the tablet are the arms of the Royal House of Bavaria; at the right of the tablet are the arms of the Grand Ducal House of Luxembourg. At the centre is a raised relief portrait of the queen. At the top of the tablet are the letters alpha and omega (the first and last letters of the Greek alphabet, symbolising eternity) and the entwined letters chi and rho (symbolising Christ). The tablet is signed "Th. Georgii". 1
The Latin inscription reads as follows:
A

Ω

ANTONIA
CONIVX RVPERTI
FILII PRIMOGENITI
REGIS BAVARIAE
NATA DIE VII·M·OCTOBRIS
A·D·MDCCCIC

R · I · P

FILIA
PRINCIPIS
LVXEMBVRGI
NASSOVIAE
MORTVA DIE XXXI·M·IVLII
A·D·MCCCCLIV

VXORI FIDELI, SEX LIBERORVM MATRI

Antonia,
wife of Rupert,
first-born son
of the king of Bavaria,
born October 7,
1899

Rest in peace.

Daughter
of the prince
of Luxembourg
[and] Nassau,
died July 31,
1954

To a faithful wife, to the mother of six children.

Monument to Queen Antonia
The church is open daily from 9.00 a.m. to 12.00 noon, and from 3.30 p.m. to 6.00 p.m. (Telephone: 39.06.7001519).
---
Notes
1 Theodor Georgii (1882-1963) was a Swabian-born sculptor. His wife Irène Georgii-Hildebrand (born 1880) was the daughter of the famous sculptor Adolf von Hildebrand. Both Georgii and his father-in-law Hildebrand were associated with the Wittelsbach court for many years. Georgii also sculpted the portraits of Queen Mary IV and III and King Ludwig III of Bavaria on the fountain which commemorates their 1918 golden wedding anniversary in the park at Schloss Leutstetten.
---
This page is maintained by Noel S. McFerran (noel.mcferran@rogers.com) and was last updated September 2, 2008.
© Noel S. McFerran 2000-2008.