Chiesa di San Bonaventura
---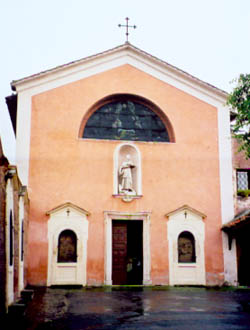 Facade
Under the high altar of this church rest the mortal remains of Saint Leonard of Port Maurice (1676-1751). Saint Leonard was spiritual director to Queen Clementina (wife of King James III and VIII). King Henry IX and I was a great promoter of his cause of canonization. 1
The church is located on the Palatine Hill, but outside the area for which an entrance fee is required. As one walks up the Via Sacra from the Colosseum towards the Arch of Titus, Via di San Bonaventura bears off towards the left. The street winds up the hill, turning left and then left again. The church is at the very end of the street after fourteen outdoor stations of the cross.
---
Notes
1 In 1796 (the year in which Leonard was beatified by Pope Pius VI) Giuseppe Maria da Masserano wrote a major biography of the new blessed: Gesta, Virtu, e Doni del Beato Leonardo da Porto Maurizio (Rome: Salomoni, 1796); the author dedicated the work to King Henry. Leonard was finally canonized in 1867 by Blessed Pope Pius IX.
Image 1 (Facade): © Noel S. McFerran 2001.
---
This page is maintained by Noel S. McFerran (noel.mcferran@rogers.com) and was last updated November 8, 2003.
© Noel S. McFerran 2000-2002.