Hotel Eden
---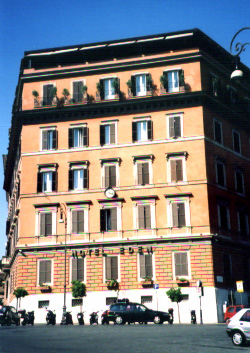 Facade
The Hotel Eden, located at Via Ludovisi 49, is one of the most luxurious hotels in Rome.
When King Rupert and his family first moved to Italy at the beginning of World War II, they lived here. 1 They did not stay long, however, owing to their financial situation. Within a short time they moved to Villa Bellosguardo outside Florence.
Website: www.hotel-eden.it; telephone: 39.06.478121.
---
Notes
1 Irmingard Prinzessin von Bayern, Jugend-Erinnerungen, 1923-1950 (St. Ottilien, Germany: EOS, 2000), 223. I presume that King Rupert had stayed in this hotel on other previous occasions.
Image 1 (Facade): © Noel S. McFerran 2002.