The village of St. Bartholomä is located on a promontory along the western shore of the Königssee, a lake some 6 kilometres south of Berchtesgaden. Until 1918 the lake was at the centre of a private royal domain to which members of the Royal Family frequently came on vacation. After the First World War the area became part of a national park, but the Royal Family still visited here often.

St. Bartholomä church and lodge
The village consists of only a few buildings, the only substantial one of which is the old Wittelsbach hunting lodge (today a restaurant, "Historische Gasthaus St. Bartholomä") to which a small church is attached. Christopher Lockett de Baviera (eldest son of Princess Hilda) and Martha Herdt were married in the church in 1991.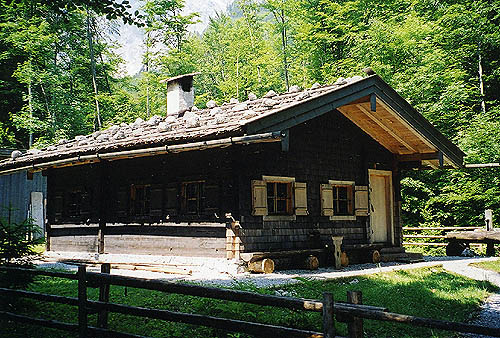 Rupprechtskaser
If one walks north of the village along the path next to the lake for several hundred metres one comes to the Rupprechtskaser, a small hunting hut built by King Rupert for his first wife Marie Gabrielle, Duchess of Cornwall and Rothesay. 1 Their sons Prince Luitpold and Prince (later King) Albert, as well as Rupert's children from his second marriage frequently played here when they were young.
Across from the hunting hut, on the shores of the lake is a memorial to Marie Gabrielle: a plinth surmounted by a bas-relief of the Madonna and Christ Child. On the plinth is a German inscription: