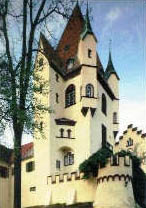 Schloss Kaltenberg
The town of Geltendorf is located 50 kilometres west of Munich, about 12 kilometres northwest of the Ammersee, between Landsberg am Lech and Fürstenfeldbruck.
Schloss Kaltenberg was purchased by the Royal Family in 1955; it is now the residence of Prince and Princess Luitpold and their family.
The castle houses the brewery managed by Prince Luitpold and owned by his mother, Schloßbrauerei Kaltenberg Irmingard Prinzessin von Bayern. In the castle itself is the Bräustüberl (brewery restaurant) which is open Sunday, Monday, and holidays 10.00 a.m. to 11.00 p.m.; Wednesday to Saturday 4.00 p.m. to 11.00 p.m. (telephone: 08193.6828). In the castle grounds is another restaurant, the Ritterschwemme (knights' parlour) which is open daily from 10.00 a.m. to 11.00 p.m.
In 1980 Prince Luitpold established an annual tournament (Kaltenberger Ritterturnier) at the castle. He has built a 10,000 seat arena for the purpose in the castle grounds. The tournament is now the largest event of its kind in the world with 1,200 performers and over 100,000 visitors.
Telephone: 08193.7575; official Schloss Kaltenberg website; Schloss Kaltenberg Shop website; Kaltenberg Tournament website.
---
This page is maintained by Noel S. McFerran (noel.mcferran@rogers.com) and was last updated November 1, 2003.
© Noel S. McFerran 2000-2003.