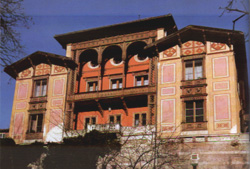 South facade
From 1818 onwards the Wittlesbachs came to hunt at Berchtesgaden almost every year. Between 1849 and 1852 King Max II of Bavaria built the Königliche Villa (royal villa) in the Italian style across from the Luitpoldpark on Kälbersteinstrasse. 1 King Rupert and his family stayed in the villa many times.
By the 1930s the villa was being used as a restaurant, the "Kur-Café Königliche Villa". Today the villa is owned by the Lindenau family who operate a bed-and-breakfast facility.
---
Notes
1 "Historischer Rundgang in Berchtesgaden", http://www.nationalpark-berchtesgaden.de/html/berchtesgaden/kt5.html
Image 1 (South facade): Geschichte von Berchtesgaden: Stift, Markt, Land (Berchtesgaden: Plenk, 1998), III, 1, 130.
---