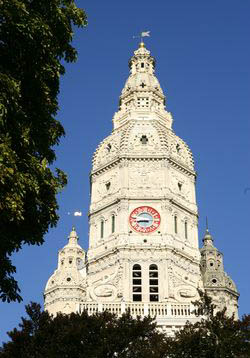 Abbey tower in Saint-Amand-les-Eaux
The village of Saint-Amand-les-Eaux is a suburb of Valenciennes located almost 200 kilometres north of Paris, near the Belgian border. On November 25, 1755, King Louis XV of France, named Henry, Cardinal Duke of York (later King Henry IX) commendatory abbot of Saint-Amand-les Eaux; he was already commendatory abbot of the nearby Abbey of Anchin. 1 Henry received a substantial annual income from these abbeys.
In 1789 the abbey was suppressed by order of the French National Assembly; Henry thereupon ceased to receive any income from it. The buildings were almost completely destroyed in 1794; the only part which survives is the magnificent Baroque tower which currently houses a municipal musuem.
In the Musée des Beaux-Arts of Valenciennes there is a portrait of Henry. 2 The museum is located on Boulevard Watteau; it is open daily except Tuesday from 10.00 a.m. to 6.00 p.m.