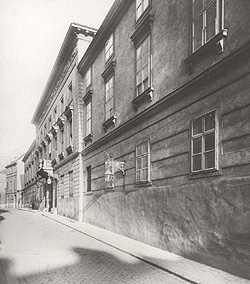 Facade
The Palais Modena was formerly located at Beatrixgasse 29. The gardens of the palace are today the Modenapark.
In 1806 the palace was acquired by the grandmother of King Francis I, Duchess Maria Beatrice Riccarda of Modena (after whom the street Beatrixgasse is named). 1 It was Francis' main residence from 1860 until his death in 1875 when the palace was inherited by Archduke Franz Ferdinand of Austria. Francis' widow Adelgunde continued to have residency rights in the palace, but she generally preferred to live in Bavaria. In 1916 the palace was demolished.
Notes
1 Edgard Haider, Verlorenes Wien: Adelspaläste vergangener Tage (Wien: Hermann Böhlaus, 1984), 97.
Image 1 (Facade): "Das Palais Modena", Die Wiener Bezirksmuseen, http://www.bezirksmuseum.at/landstrasse/page.asp/1091.htm
---