This palace is located at Ebenzweierstrasse 26. It was owned by the brother-in-law of Queen Mary III and II, Archduke Maximilian of Austria-Este. It was the location of many reunions of the Royal Family.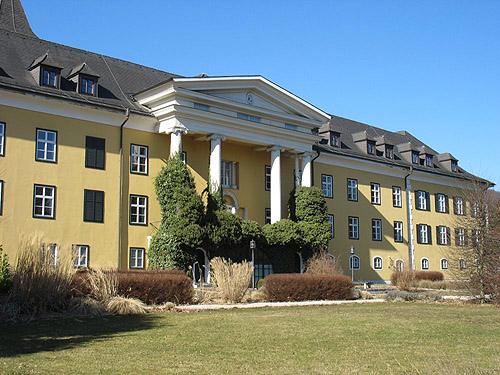 Schloss Ebenzweier
In the spring of 1834 Queen Mary III and II came here with her family including the future King Francis I; they were joined by Mary's sister the Empress Maria Anna of Austria and her husband the Emperor Ferdinand I.1 Francis returned here in 1839, in 1848 (with his wife Adelgunde during the exile from Modena), in 1850 (for the death of his uncle Archduke Ferdinand of Austria-Este), and in 1852 (with the Countess of Chambord).2
In 1856 there was a larger gathering which included Francis, his wife Adelgunde, the Count and Countess of Chambord, and Francis' niece and eventual successor the future Queen Mary IV and III.3
At the death of Archduke Maximilian in 1863, Ebenzweier was inherited by his niece Archduchess Maria Theresa, wife of the comte de Chambord and sister of King Francis I.4 She continued to own it until her death in 1886, when it was inherited by her great-nephew, Don Jaime de Borbon, grandson of her sister Archduchess Maria Beatrice. Don Jaime sold the property in 1892 to his uncle Don Alfonso de Borbon, younger son of Archduchess Maria Beatrice.
Notes
1 Teodoro Bayard De Volo, Vita di Francesco V, Duca di Modena (l8l9-l875) (Modena : Tipografia dell' Imaculata Concezione, 1878), I, 64.
2 Ibid., I, 71; I, 279; I, 398; II, 25.
3 Ibid., II, 297-298.
4 "Ansitze der Grafen von Seeau", http://members.kabsi.at/seeau/Encyclopaedia/Besitz/Ansitze-Seeau.htm.
---