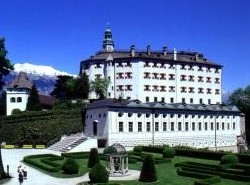 Schloss Ambras

In 1718 Princess Clementina Sobieska (later Queen Clementina and wife of King James III and VIII) was imprisoned in this castle by order of the Emperor Charles VI.

Today the castle houses part of the Kunsthistorisches Museum Wien; open April to October daily from 10 a.m. to 5 p.m., December to March daily from 2 p.m. to 5 p.m.; tour at 2.30 p.m. Admission April to October ATS 90, December to March ATS 60.

(Telephone: 43.512.348446).