The Scottish Ancestry of Princess Max
---
On January 24, 1967, His Royal Highness The Prince Max, younger son of His Majesty King Albert, married Countess Elisabeth Douglas.
Princess Max was born into a branch of the Scottish house of Douglas which had settled in Sweden in the seventeenth century. She is descended in the male line from William Douglas, 4th of Whittinghame, who married Elizabeth Maitland, herself a descendant of Robert II, King of Scots.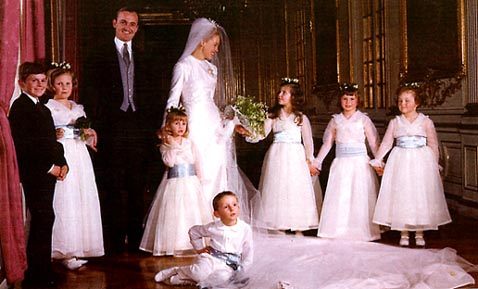 Wedding of Prince and Princess Max, January 24, 1967.
The wedding attendants are the groom's nephews and nieces:
Alexander Quadt, Walburga Waldburg, Gina Quadt, Erich Waldburg,
Gabrielle Waldburg, Marianne Quadt, and Monika Waldburg.
---

Robert II, King of Scots                          James Douglas of Lothian
(born 1316; crowned 1371; died 1390)              (died before 1323)
        |                                                 |
        |                                                 |
Robert Stewart, 1st Duke of Albany (1339-1420)    Sir John Douglas of Lothian
        |                                         (died 1350)
        |                                                 |
        |                                                 |
Margaret Stewart                                  Sir James Douglas of Dalkeith
    married                                       (b c1330-1420)
Robert Stewart, 1st Lord Lorn (died before 1449)          |
        |                                                 |
        |                                                 |
Isabel Stewart                                    Sir James Douglas,
    married                                       1st Lord Dalkieth
Colin Campbell, 1st Earl of Argyll (died 1493)    (died 1441)
        |                                                 |
        |                                                 |
Margaret Campbell                                 Sir William Douglas,
    married                                       1st of Whittinghame
George Seton, 2nd Lord Seton (died 1507/8)        (died before 1484)
        |                                                 |
        |                                                 |
Martha) Seton                                     Sir William Douglas,
    married                                       2nd of Whittinghame
William Maitland of                               (alive 1484)
Thirlestane and Lethington (died 1513)                    |
        |                                                 |
        |                                                 |
Sir Richard Maitland of                           William Douglas,
Thirlestane and Lethington (1496-1586)            3rd of Whittinghame
        |                                         (died about 1572)
        |                                                 |
        |                                                 |
Elizabeth Maitland                                William Douglas,
        |                                         4th of Whittinghame
        |                                         (alive 1590)
        |                                                 |
        ---------------------------------------------------
        |
Patrick Douglas (died 1626)
        |
        |
Count Robert Douglas (1611-1682)
        |
        |
Count Gustaf Douglas (1648-1705)
        |
        |
Count Vilhelm Douglas (1683-1763)
        |
        |
Count Vilhelm Otto Douglas (1721-1776)
        |
        |
Count Carl Vilhelm Douglas (1754-1834)
        |
        |
Count Vilhelm Christoffer Robert Douglas (1784-1844)
        |
        |
Count Carl Israel Vilhelm Douglas (1824-1898)
        |
        |
Count Ludvig Vilhelm August Douglas (1849-1917)
        |
        |
Count Archibald Douglas (1883-1960)
        |
        |
Count Carl Douglas (1908-1961)
        |
        |
Countess Elisabeth Douglas (born 1940)
     married (1967)
Max, Prince of England, Scotland, France, and Ireland
Prince of Bavaria, Duke in Bavaria (born 1937)

---