Charlotte, Duchess of Albany
---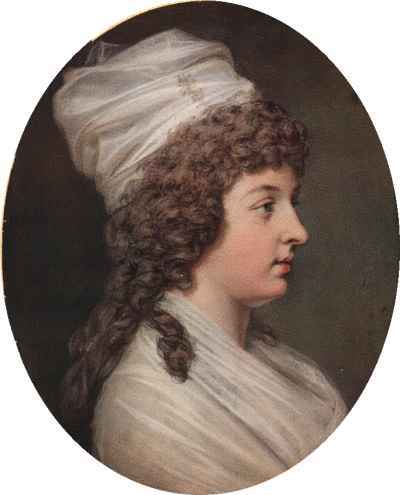 Portrait by Gavin Hamilton
Charlotte Stuart was the natural daughter of Charles, Prince of Wales (later King Charles III) and of his mistress, Clementina Walkinshaw. Clementina was the youngest daughter of John Walkinshaw of Camlachie and Barrowfield, co. Lanark, by his third wife, Katharine, daughter of Sir Hugh Paterson of Bannockburn, Bt. The Walkinshaws were a thoroughly Jacobite family who fought for King James III and VIII in both the 1715 and 1745 risings.
Charles and Clementina first met in Glasgow in December 1745, when Charles was retreating from Derby. It seems that they developed an amatory alliance at this time. In 1752 this relationship was renewed in the Low Countries; they lived together for the next eight years. Occasionally later writers have suggested that the couple married and that their daughter was born legitimate and could therefore succeed her father in his British rights; but (apart from the fact that there are absolutely no records which would substantiate such a claim) this is proved to be mere fantasy by the affidavit signed by Clementina, March 9, 1767, affirming that there had never been a marriage and by Charles' later treatment of his daughter.
Charlotte was born to Charles and Clementina at Liège in October 1753. There has never been any doubt as to her parentage. In 1760 Clementina left Charles on account of his ill treatment of her. She retired with her daughter to the Visitandine convent on the Rue de Bacq in Paris where she received an annual pension of 6,000 livres from King James III and VIII. From this time onwards, Clementina used the title "Countess of Alberstrof" which she was thought to have received from the Emperor Francis I.
At the death of King James III and VIII, January 1, 1766, Charles refused to make provision for his daughter and her mother; his brother the Cardinal Duke of York granted them an annual pension, but of only 5,000 livres. Mother and daughter had to find cheaper lodgings in the convent of Notre Dame at Meaux-en-Brie.
Only in 1783, after it became clear that his separation from his wife Louise was permanent, did Charles begin to take an interest in his natural daughter. On March 23, 1783, Charles wrote a new will in which he made Charlotte his heir. On (or before) this same date, Charles granted his daughter the title of "Duchess of Albany" in the Scottish peerage and the style "Her Royal Highness". A week later, on March 30, Charles signed an act of legitimation for Charlotte. This act was sent to the Most Christian King Louis XVI, who himself signed an act of legitimation for Charlotte in August 1784, and had this act registered in the Parliament of Paris, September 6, 1787.
These acts of legitimation made it easier for Charlotte to inherit Charles' properties in France, which by law could only be inherited by Charles' legitimate heirs. They did not, however, in any way effect the order of succession to the throne which remained unchanged. They did, however, cause some confusion in this matter, a point made by the Cardinal Duke of York in his protest against the action.
In October 1784, Charlotte came to live with Charles in Florence at the Palazzo San Clemente, and on November 30, he named her a Knight [sic] of the Order of the Thistle, the first such creation since 1768. She lived with her father until his death, January 30/31, 1788. She herself acknowledged the succession of her uncle the Cardinal called Duke of York to the British rights of his brother. Some later writers, misunderstanding the circumstances of Charlotte's birth or the effects of the acts of legitimation, have wrongly claimed that she could have and in fact did succeed to these rights.
Charlotte died unmarried at the home of the Marchesa Giulia Lambertini-Bovio, Palazzo Vizzani Sanguinetti, now Palazzo Ranuzzi in Bologna, November 17, 1789. Her remains were laid to rest in the neighbouring Church of San Biagio, probably in one of the two Lambertini chapels that were there. The church was closed in 1797 by the French and then pulled down. It would seem that Charlotte's remains were then transferred to the Oratorio della Santissima Trinità (a chapel of religious sisters) and then in 1961 to the neighbouring Chiesa della Santissima Trinità. Charlotte's will shows the tenderness she felt for the members of her household, not one of whom is forgotten.
Throughout her life Charlotte managed to keep a secret from her father and from the world; this secret was only revealed in the mid-twentieth century: for many years she had a close relationship with Prince Ferdinand de Rohan, Archbishop of Bordeaux and later of Cambrai. She bore him three children: a son Charles, who in later life used the title "Count Roehenstart", and two daughters, Aglaë and Marie Victoire. Charles and Aglaë seem to have died without having children. But Marie Victoire married several times, leaving one son who has descendants living in Poland today.
Further reading:

Skeet, Francis John Angus. The Life and Letters of H.R.H. Charlotte Stuart, Duchess of Albany. London: Eyre & Spottiswoode, 1932. The standard biography, but lacking all reference to Charlotte's children. "[H]is translations of French papers are sometimes so free as to be misleading. He was also unaware of the best source of knowledge about his heroine, that is her own letters to her mother now in the Bodleian." (Tayler).

Tweedsmuir, Susan. Funeral March of a Marionette: Charlotte of Albany. London: L. and Virginia Woolf, 1935. A brief sketch.

Tayler, Henrietta. Prince Charlie's Daughter: Being the Life and Letters of Charlotte of Albany. London: Batchworth Press, 1950. The most complete of the biographies. Makes full use of Charlotte's correspondence with her mother, providing many personal details. The first work to reveal Charlotte's three children.

Sherburn, George. Roehenstart: A Late Stuart Pretender. Chicago: University of Chicago Press, 1960. A biography of Charlotte's illegitimate son, Charles, Count Roehenstart.

Berry, C. Leo. The Young Pretender's Mistress: Clementine Walkinshaw, Comtesse d'Albestroff, 1720-1802. Edinburgh: Charles Skilton, 1977. A biography of Charlotte's mother.

Pininski, Peter. The Stuart's Last Secret: The Missing Heirs of Bonnie Prince Charlie. East Linton: Tuckwell, 2002. The first work to explore the possiblity that Charlotte's younger daughter, Victoire, had descendants in Poland. This theory has now been challenged by Marie-Louise Backhurst, "The Marriages of the Granddaughter of Bonnie Prince Charlie," Genealogist's Magazine 31, no. 2 (June 2013): 45-49.

Return to Other Stuart Claimants.
---
This page is maintained by Noel S. McFerran (noel.mcferran@rogers.com) and was last updated September 8, 2015.
© Noel S. McFerran 1998-2015.