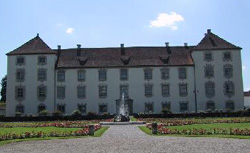 Facade
Leutkirch - Schloss Zeil
The town of Leutkirch is located forty kilometres north-east of Lindau.
Schloss Zeil is the home of the King's sister, the Princess of Waldburg zu Zeil und Trauchburg. The castle is not open to the public. Four of the daughters of the Princess of Waldburg-Zeil (Walburga, Monika, Adelheid, and Elisabeth) were married in the castle church.
The castle is located north of the town-centre, on the other side of the A96 highway
Unofficial website: www.schloss-zeil.de.
Image 1 (Facade): "Rundgang durch Schloss Zeil 5", http://home.arcor.de/n.schwanzer/rug/rug5.htm.